Hot Tent Supplier Tent With Stove Maker – BanoTent
Posted On 2020-06-02
What is a hot tent?
The hot tent is a kind of functional camping tent with a fireproof stove jack. Campers can use firewood stoves in tents by getting the stovepipes through the stove jack. This design enables campers to cook in the tent or to keep warm when it is cold, which can greatly enhance the fun and experience of camping. It is worth noting that since last year, hot tents are becoming more and more popular on YouTube.
About hot tent products
Hot tents from BanoTent are tipi style tents with a fireproof stove jack. We design and produce 1-2 people / 3-4 people / 5-6 people hot tents. The tent colors we provide mainly include green, brown, and white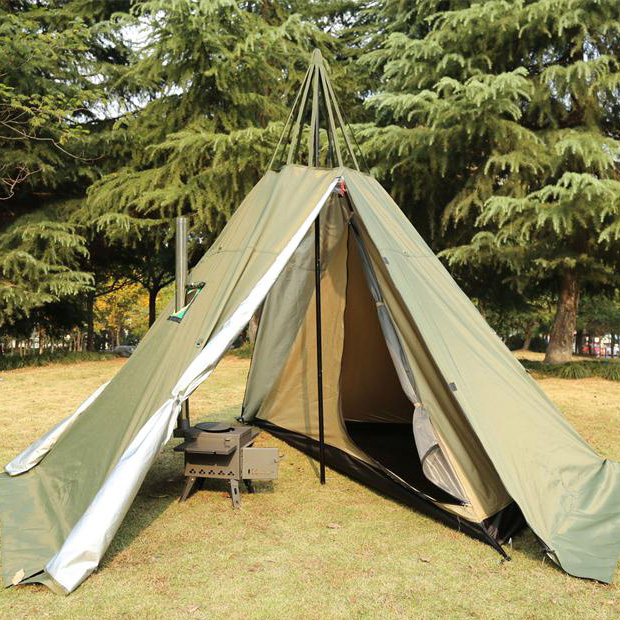 About the market of hot tents
At present, we have conducted market research in many countries including the United States, Canada, the United Kingdom, Australia, Denmark, etc. There are a lot of campers who are very interested in our products. The good growth potential and profit margin of this new product will be an important factor worthy of cooperation or investment.
About our factory
We are BanoTent, who is a Chinese camping tent factory dedicated to producing hot tents. We started to study, research, design, and produce hot tent products since 2018. In 2019, we spent a lot of time and energy to collect customer feedback and improve these products. We are an innovative tent factory, we support wholesale, ODM, and OEM cooperation. We can offer the lowest price for large quantity purchases.
Why choose us?
We are a factory that develops and designs hot tents independently. As we have been working on this product for many years, we have a deep understanding of the hot tent products and the market. Besides, we can make the fastest response to the trend of hot tents and develop the latest products.
We provide customers with after-sales support services. It is worth noting that the after-sales problems of hot tents are more than those of ordinary camping tents. If your customers have any problems when using the product, we can also provide help and support for you because we are very familiar with the problems that may occur. This is different from other tent factories.
Advantages for you of our cooperation
Our hot tents can enrich your product categories and bring you new profit points.
When we print your logo on the product, you can have a whole hot tent supply chain. We will deal with the production, labeling, and logistics of hot tents for you.
The market for hot tents is developing rapidly. Our products can help you plan and layout the hot tent product category in advance, and let you occupy a certain position in the hot tent market in the future.
How to contact us?
If you are interested in our hot tents, please feel free to let us know your ideas and your plans.
You can visit our website here https://www.banotent.com.
Besides, our email is support@banotent.com . We are looking forward to receive your email.