Has anyone bought from Pomoly?
Posted On 2020-08-27
Has anyone bought from Pomoly? I bought and paid for a Mata tent and flame stove August 17. I have not heard from Pomoly since then. Are they honest? ( – Mike Miller from Facebook )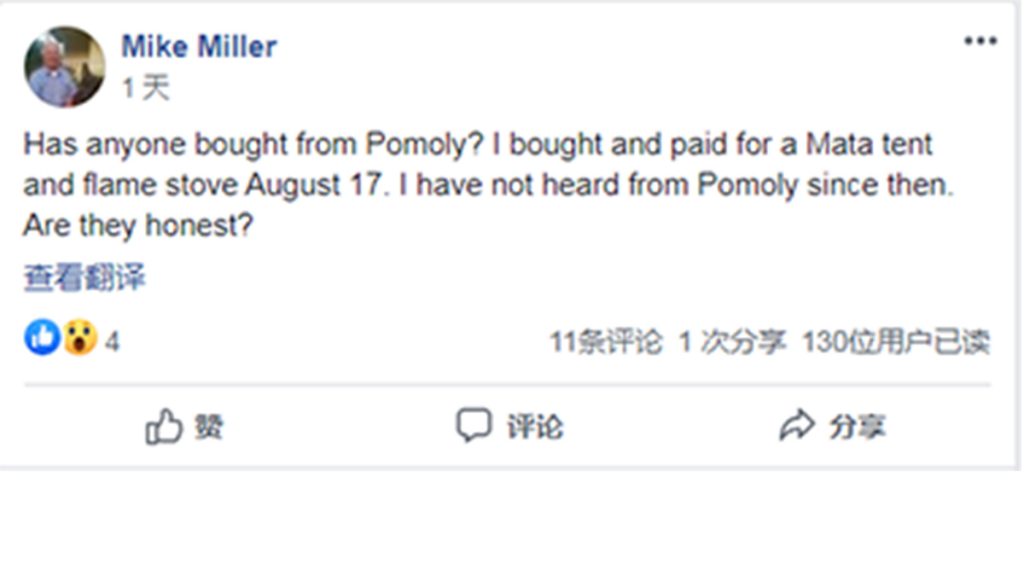 Mike Miller: Meant Manta tent.

Tim Pan
Tim Pan Plenty here have, including myself, not had an issue. Sorry to hear about your experience and hope it improves!

Dayna Duncan
Dayna Duncan I had excellent customer service this year. Some items take longer than others to ship.

Joshua Gammon
Joshua Gammon Got a few items. Great group of folks. Just IM on Facebook I'm sure you'll be taken care of.

Pomoly Wilderness Equipment
Hi, I'm very sorry for the problem you have encountered. I just checked your order. Manta tent is a new style, so it is not in stock at present. We are producing this tent for you. ( Maybe the good news is that we can guarantee that the Manta you'll receive is brand new. ? ) It will take 1-2 days to complete the production. Then we will arrange the express for you as soon as possible?. We have now immediately modified the Manta tent product listing on the official website to add a Preparation Time. Thank you very much for your support and feedback. We are ready to help you. ?

Ian Sen
Ian Sen Just to add to the reassurances here Mike, I also bought from them, and in my experience, they are very honest, with good customer service – hope that helps.

Mike Miller
Mike Miller: Thank you.

Colin Russell
Colin Russell Great company, customer service us excellent, tents and stoves are amazing???

Mechelle Rafferty
Mechelle Rafferty Yes I got my wee pomoly stove. Took a few weeks but had email updates about the shipping. Just ordered a new flue last week and had 2 emailes with dispatch number

Mike Miller
Mike Miller: Thanks for all the comments! Thanks also to Pomoly for the reply. I feel much better!!

Anne Riley Davies
Anne Riley Davies Ordered T1 Perspective stove on 8th August, expected dispatch to be 28th. However, dispatched on 19th arrived here on 24th. Excellent service and communication. Will be following up with an order for canvas hot tent with some extras!
From Facebook: https://www.facebook.com/groups/hottent/