Why Choose Pomoly T Brick Max Stove for Hot Tent Camping?
Posted On 2022-03-26
Are you still worried about not knowing which stove to choose? If you want to find a multifunctional stove, you can learn more about Pomoly T Brick Max Stove with me. This stove is suitable for multi-person tents. Whether you're camping with your friends or family. In my opinion, Pomoly T Brick Max Stove is your best choice.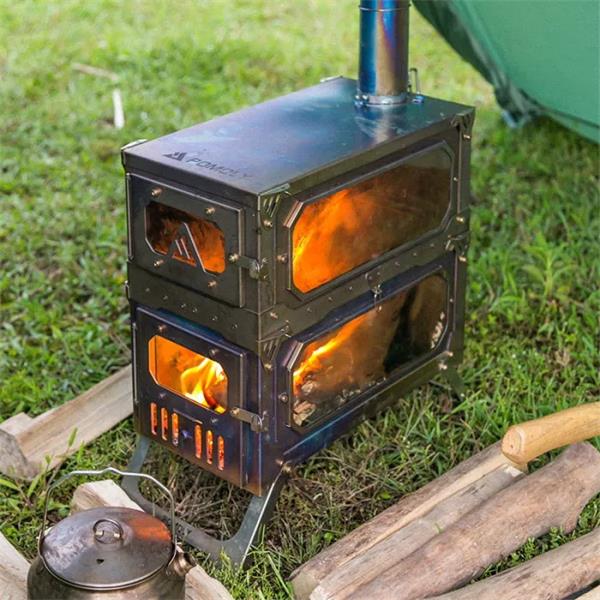 Quick View:
1 + 1 Portable Design
Super Large Firebox
Second Combustion Chamber
Side Air Intake Panel
Transparent Heat-resistant Glass
Whether it is a small tent hidden in the woods or a large tent, a tent without a wood stove is incomplete. It is not only a great way to warm things but also can add rustic charm to almost any space.
Shop Now: https://www.pomoly.com/T-BRICK-MAX
1. 1 + 1 Portable Design
In short, we can understand 1 + 1 as a two-layer stove. Because this is a tent designed for many people. Therefore, Pomoly T Brick Max Stove's space is sufficient for users. When we use the "double-layer" mode, if we fill the firewood, it can burn longer than T1 and t-brick.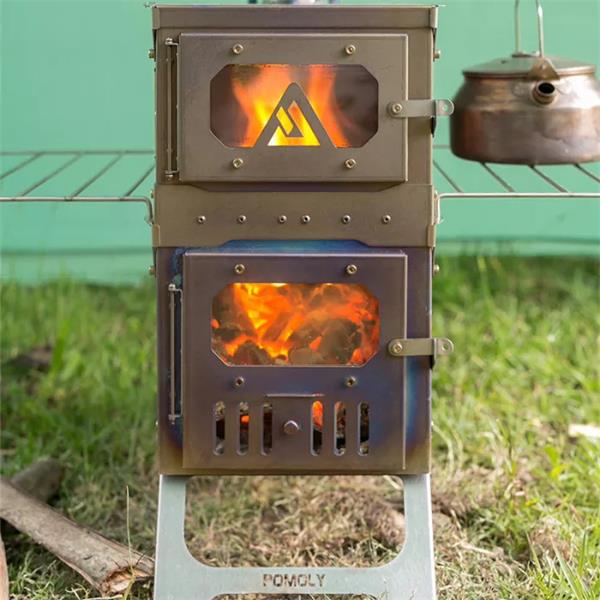 2. Super Large Firebox
The door of t-brick Max has been widened and raised so that large pieces of wood can easily enter the stove. The stove increases the accommodation of the firebox. Firewood capacity increased by 89%. You can spend less time adding firewood to the firebox.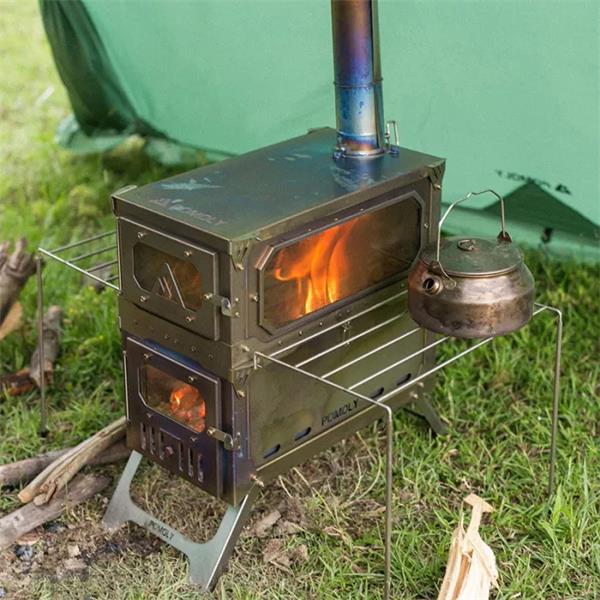 3. Second Combustion Chamber
This design is unique to Pomoly T Brick Max Stove. As we all know, most stoves have a combustion chamber. The combustion chamber can make the wood that is not fully burned. Additional combustion chambers can provide longer combustion time and higher tent temperature.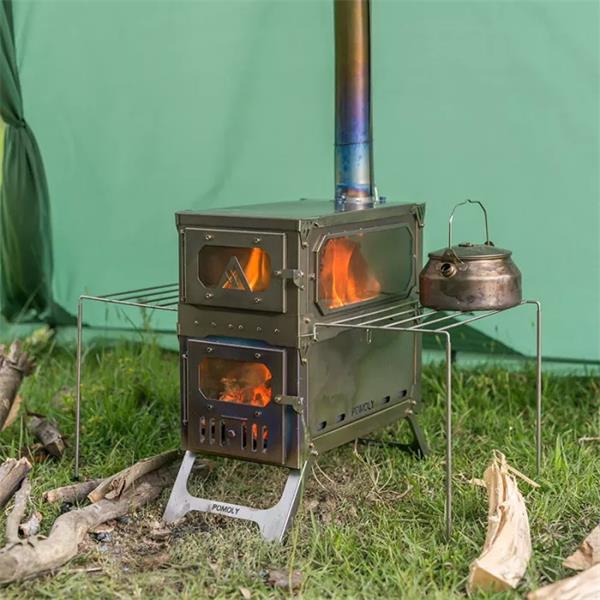 4. Side Air Intake Panel
We can see from the figure that the air inlet of the T Brick Max Stove is mainly designed on the side of the stove. In addition, the front door of the stove is also designed with a small vent. This is friendly for friends who want to cook food quickly.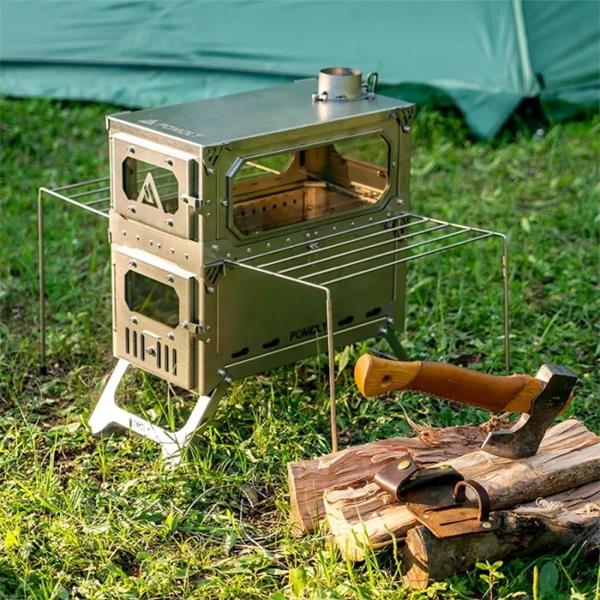 5. Transparent heat-resistant glass.
Two-thirds of the sides of Pomoly T Brick Max Stoves are made of heat-resistant glass. Heat-resistant glass has two advantages. First, you can observe the combustion of wood in the firebox through the transparent glass. You can add firewood to the firebox in time. Second, transparent glass can illuminate the whole tent or cabin. You don't have to worry about being invisible at night.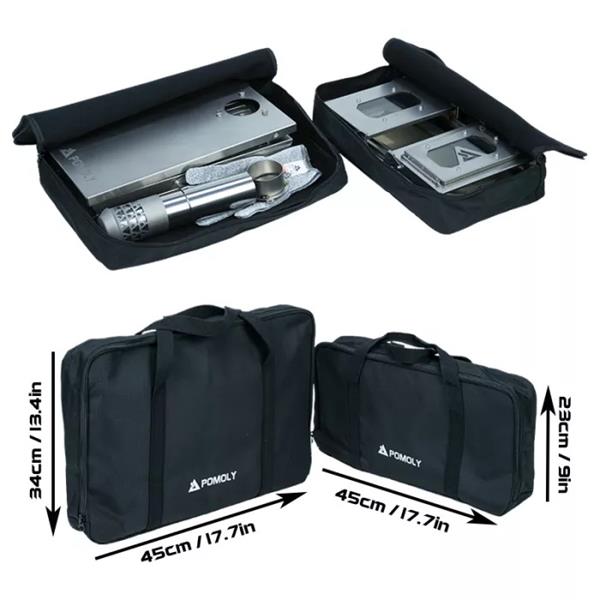 Pomoly T Brick Max Stove specifications
CHART

| | |
| --- | --- |
| Stove Type | Portable Titanium tent Stove / 4-6 Person |
| Carrying Weight (Without chimney) | 10.8 lb / 4.9 kg |
| Folding Dimension | 15.35 x 7.87 x 3.2 in (39 x 20 x 8 cm) |
| Stove Body Dimension | 15.35 x 7.87 x 13.39 in (39 x 20 x 34 cm) |
| Assembly Dimension | 15.35 x 7.87 x 17.32 in (39 x 20 x 28.5 cm) |
| Side Glass Size | 11.4 x 3.9 in (29 x 10 cm) |
| Pipe Length (Storage) | 9.5 in / 24 cm |
| Pipe Length | 6.56ft / 2m or 9.84ft / 3m |
| Pipe Diameter | 2.36 in / 6 cm |
| Spark Arrestor | Yes |
| Material | 1mm Thickness Titanium (GR1/TA1) |
| Firebox Volume | 26.5L |
| | |
Reviews:
So excellent! I have 5 stove for camping, and I love it best. Very very good
A well manufactured piece of gear. Will definitely keep my tent warm. With the additional level, it will be useful to load in more wood for longer burn times.I will be looking at a different stove pipe configuration as the straight one piece roll is adequate to get the job done, but finicky flimsy to deal with. I would much prefer a sectional pipe with a couple of elbows so I can position the stove better within the tent.
I really like the unique design of this T-Brick titanium stove better than the rest. I personally leave the lower door closed and lower chamber collects a great coal base with out coals falling out of the stove. I add wood through the upper door. I am so happy with this stove I bought a second Pomoly stove, the T-1 Mini for solo backpacking. Pomoly!, Keep up the awesome job with design, manufacturing and great customer. service! You now have a customer for life! P.S. a special thanks to Jeremy 902 for exposing me to the products and Elaine Lin for her excellent customer service!
Conclusion:
If you want to buy a large stove, I think Pomoly T Brick Max Stove is the most suitable for you. In terms of appearance and speed, this stove is better than the stove at a similar price. In addition, Pomoly T Brick Max Stove also has a unique design bag, which allows you to store the stove more portable.