Tent Stoves Compared—Pomoly T1 Stove VS Winnerwell Fastfold Stove
Posted On 2022-12-27
Busy daily work makes many urbanites tired, so outdoor camping has become increasingly popular. Many camping enthusiasts enjoy setting up tents for cooking outdoors. Camping and cooking can really relax and relieve work pressure. In summer camping, you can use wood stoves for a barbecue to make delicious food. In winter camping, you can not only use wood stoves to make delicious food, but you can also keep warm. Therefore, it is very important for camping to have a good tent wood stove! No matter what season of outdoor camping, a good wood stove can add more fun to your camping activities.
The following is a detailed introduction of two titanium wood stoves, Pomoly T1 Stove and Winnerwell Fastfold Stove. These two stoves are currently popular among camping enthusiasts on the market. Let's compare the advantages and differences between these two stoves.
POMOLY T1 Stove PERSPECTIVE Titanium Wood Stove for Hot Tent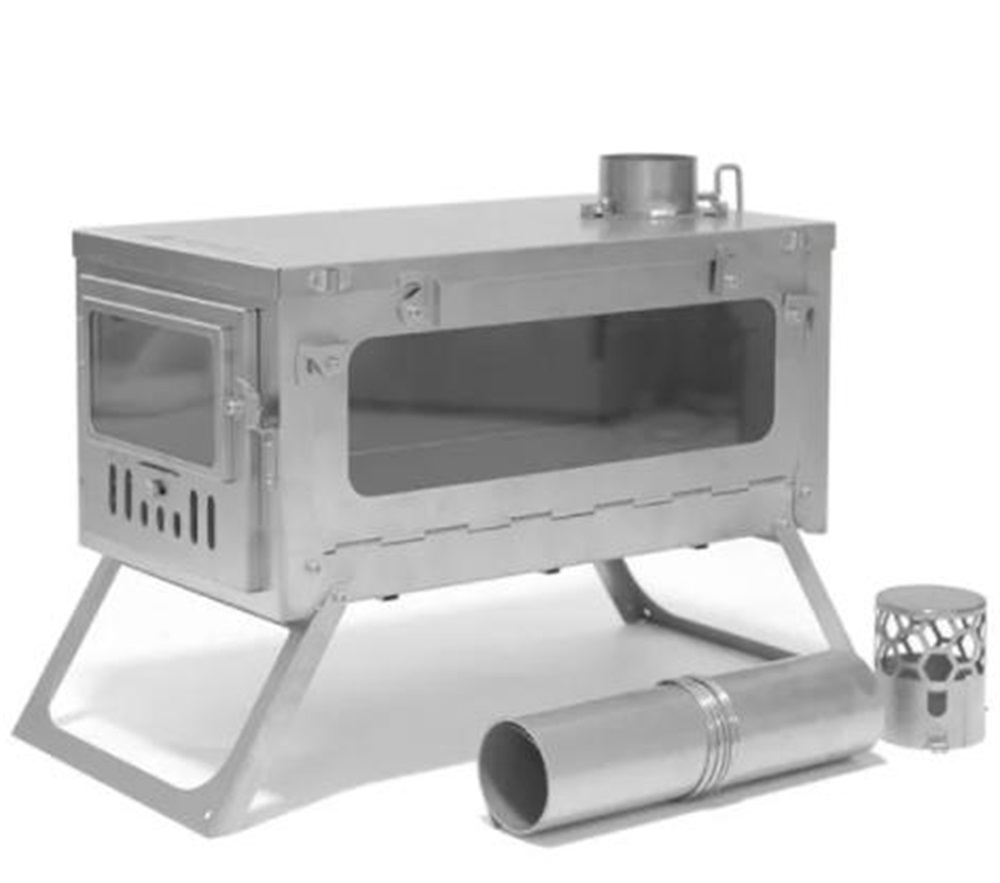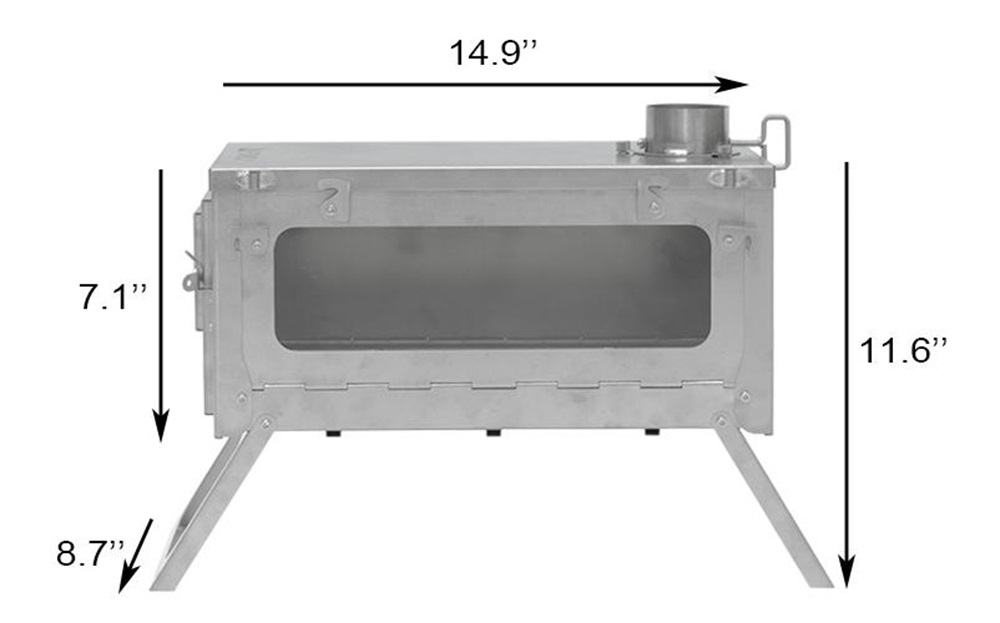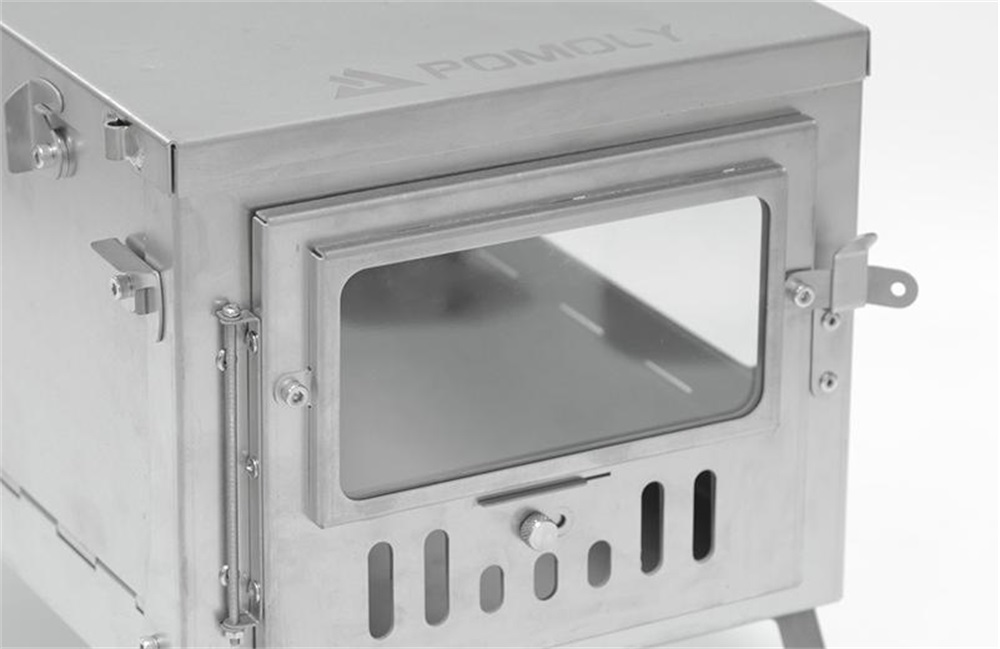 The Pomoly T1 camping wood stove is the company's first titanium stove. Its sales have been rising since its launch for more than a year, and it has been sought after by many fans. To be honest, I am also a big fan of this stove. The classic T1 camping wood stove has 2 sides of the glass. There is one glass on the front door and one on the side. You can admire the fire of a wood stove through the fireproof glass when you are burning firewood. It is actually very interesting to observe the changes of the flame. The color and shape of the flame can bring people a kind of peace of mind. Therefore, wood stoves with fireproof glass design are the first choice for many camping enthusiasts.
Product Details
Material:1mm Thickness Titanium (GR1/TA1)
Carrying Weight:8.6 lb / 3.9 kg
Folding Dimension:14.9 x 8.7 x 3.5 in (38 x 22 x 9 cm)
Stove Body Dimension:14.9 x 8.7 x 7.1 in (38 x 22 x 18 cm)
Assembly Dimension:14.9 x 8.7 x 11.6 in (38 x 22 x 29.5 cm)
Side Glass Size:3.9 x 11.8 in (30 x 10 cm)
Pipe Length (roll into):9.5 in / 24 cm
Pipe Length:6.56ft/2m or 9.84ft/3m
Pipe Diameter:2.4 in
Part:Titanium or Stainless Steel 304
Spark Arrestor:Yes
WHAT'S INCLUDED:
T1 Stove
Titanium Chimney
Chimney rings
Zippered Bag
Smoke Damper
Spark Arrestor
Cut Resistant Gloves
Fire Poker Stick
First of all, the POMOLY T1 Stove tent camping stove is made of titanium and has a wide range of advantages of titanium products. In terms of material, this titanium stove is light in weight, simple to assemble, convenient to store, easy to carry, and suitable for cycling and car camping. In terms of appearance design, it has two sides of the fireproof glass, visually giving users a cooler experience. At the same time, the top and bottom of POMOLY T1 Stove are strengthened and fixed to prevent the stove body from deforming after use. In terms of price, the quality of this tent camping stove is worth its price. If you want to buy a good-value titanium wood stove, this is definitely a very good choice.
Another thing to note is that the T1 titanium wood stove pipe is also made of titanium. The titanium stove pipe is very small before unfolding, and the length, when stowed, is only xx inches. There are two specifications for the unfolding length of the titanium pipe, 6.56ft, (2m) and 9.84ft, (3m). Due to the good ductility of titanium, a certain skill is required to roll the titanium stove pipe. If you are a novice camper, you need to refer to some instructional videos on the official website, otherwise, it is easy to damage the titanium stove pipe due to improper operation!
Youtube Video link of rolling titanium pipe :
Winnerwell Fastfold Stove
Pomoly T1 Stove Pros:
Lightweight, compact, and practical firewood stove.
Double-sided fireproof glass design, beautiful and cool.
Easy to carry and save storage space for camping equipment. The stove body and accessories are the sizes of a laptop after being stored.
Convenient to cook food, be of good thermal conductivity, and the top plate can be disassembled.in addition, a special grilling net can be put on for barbecue.
Pomoly T1 Stove Cons:
Compared with other camping wood stoves, the price is slightly higher. It is suitable for camping enthusiasts who have higher quality requirements for camping stoves and have a sufficient budget.
Pomoly T1 Stove Youtube video
Pomoly T1 Stove Reviews:
1、Great to see you and cute little brooke. She's so well disciplined and attentive with her dad. Awesome backyard, looks ready to plant something in there. That stove is gonna be perfect for winter camping. Love the video.( –Chazown Adventure from Youtube )
2、Love the stove!!!  Every girl should have a relationship with their dad like you have.  I've never seen anything so beautiful!!!  She won't end up a run away like me.  G-d bless you!!!( –Patricia Ribaric rom Youtube )
3、I ordered this stove.  your videos played a big part of my decision.  And now i see this video.  Adorable! ( –Kevin O'Donoghue from Youtube )
4、What a wonderful helper you have there. I bet she'll make a great camping partner before long. T1 stove looks really good W/2 side shelfs. Dried socks, warming racks for food etc. Cool! I didn't see solid side panels or extra window panel for purchase when ordering. Did I miss something?❤( –Brian Helgeson from Youtube )
Winnerwell Fastfold Titanium Stove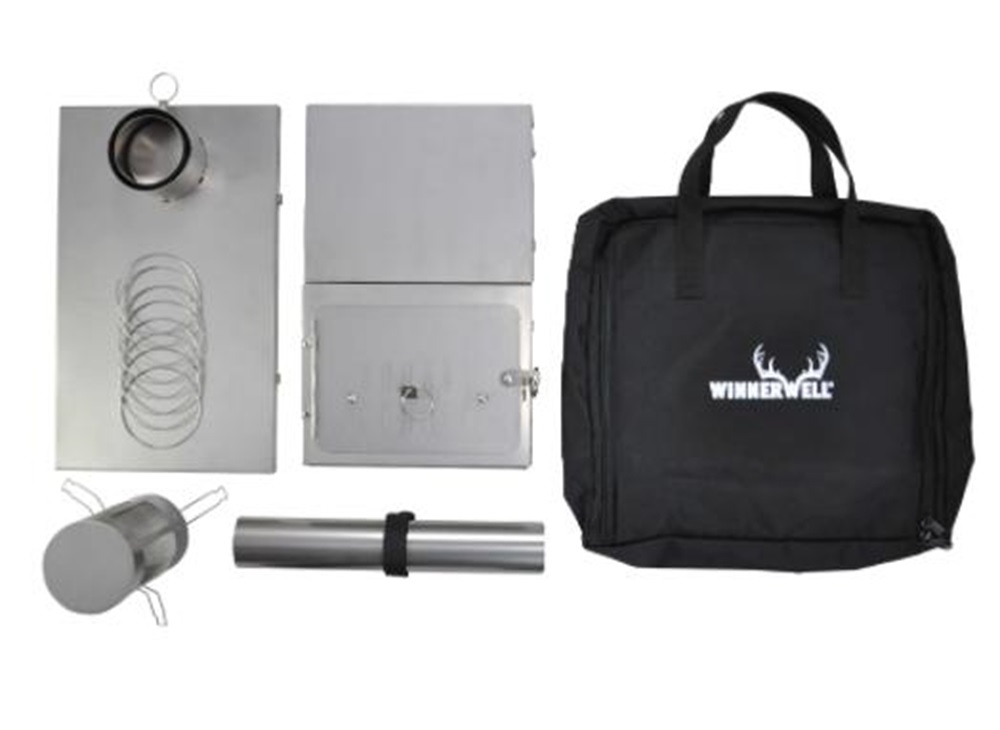 Winnerwell Fastfold Titanium Stove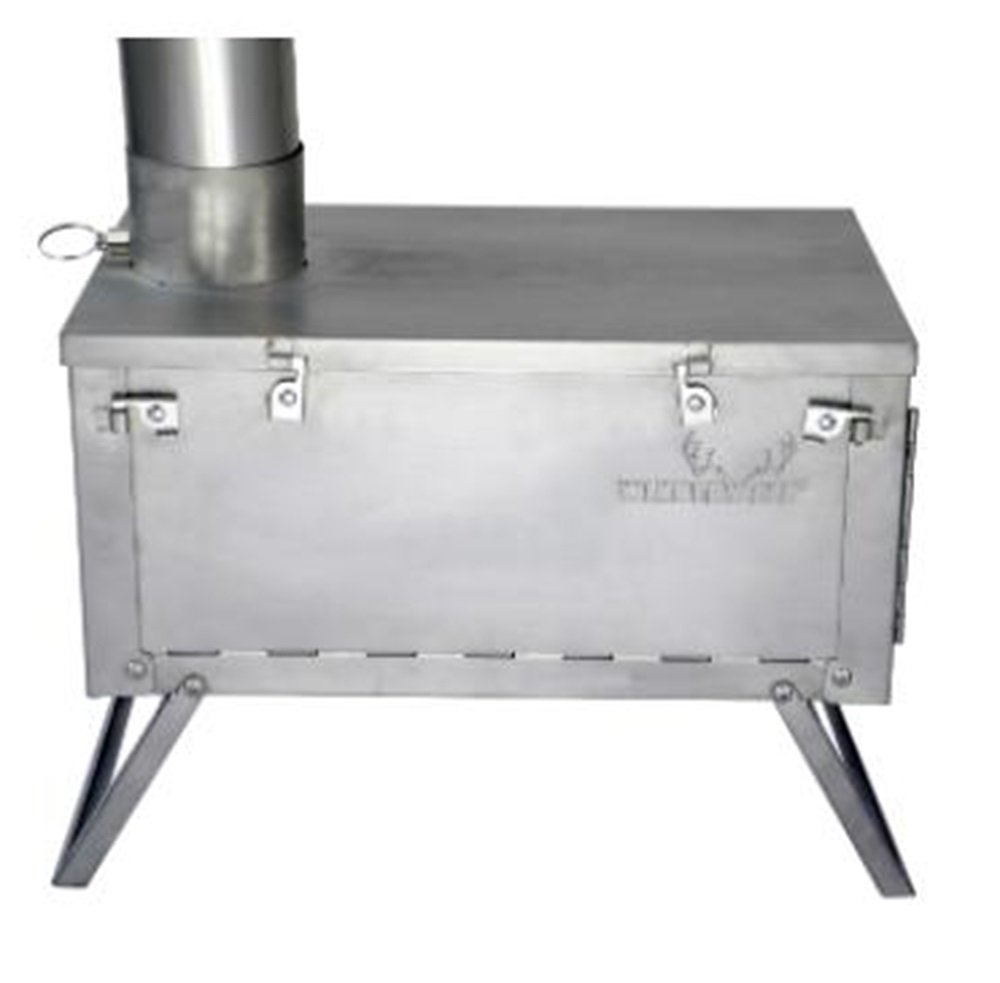 Ultralight and Ultra-packable, the Winnerwell Fastfold Titanium Wood Burning Tent Stove is the premier ultralight tent stove for backcountry skiers, hunters, and explorers. Ideal in lightweight stove-compatible shelters like pyramid and teepee tents, the Fastfold Titanium Stove folds flat and the flue pipe rolls into a compact tube—the entire kit weighs only 4lbs. The Fastfold design sets a new standard in reliable, hassle-free set-up. There are no hardware parts to lose or fumble with cold hands, simply fold the walls into place and secure with integrated clasps. Plus, with the top of the stove removed, this stove functions well as an ultralight fire pan for river runners and backpackers in sensitive wilderness areas.
Product Details
Includes 1 Fastfold Stove body, 1 rolled stove pipe, 1 spark arrestor, and 8 pipe rings, 1 carry bag
Weight: 4 pounds (Stove + Chimney Pipe)
Packed dimensions: 15" x 9" x 2" (stove body) 12" x 1" x 1" (rolled pipe)
Assembled dimensions: 15" x 9" x 7" (stove body)
Flue Dimensions: 3" diameter, 108" length
Firebox capacity: Approx. 900 cubic inches
Fuel type: Dry seasoned wood
Integrated airflow dampers in the door and the base of the flue allow you to control burn rate
Functions as an ultralight firepan with the stove lid removed, ideal for river runners and campers in sensitive wilderness areas.
The Winnerwell Fastfold Titanium Wood Burning Tent Stove is made from durable titanium, helping ensure that nothing breaks this stove. It's nearly indestructible, which makes it a great choice for camping and campers who want to bring it through rough terrain. This stove comes with a nine-foot stove pipe that is made from rolled titanium, a durable firebox, a spark arrestor, and a carrying bag. The stove uses a completely collapsible design, so it can fit easily into the bag it comes with. This is great for backpackers who are trying to stay light and fit as many supplies as possible into a small space.
Pros:
Lightweight, compact structure, easy to combine and store. Suitable for biking and backpacking camping.
The weight is only 4 pounds, which is very light.
Cons:
It is prone to deformation after use.
It may be a bit small for a big tent.
Winnerwell Fastfold Titanium Stove Youtube video
Winnerwell Fastfold Titanium Stove Reviews:
1、Love the stove, setting the pipe for the first time involved a lot of swearing and annoyance as it swayed in the slightest breeze and trying to keep it upright. About to test it properly next week intent. But the chimney will have to be very firmly secured. Very fragile. I'm also looking for some kind of floating grill grate to put in the bottom of the stove to prolong the bottom and add extra airflow.(– Leg over Lass from Youtube)
2、Just ordered mine yesterday, and i cant wait until it gets here. Thanks for this detailed description of this stove. ( –The ONE Having The Key from Youtube )
3、should of make a glass window on both sides for campfire lighting.( –2phalanges from Youtube )
Pomoly T1 Stove VS Winnerwell Fastfold Stove
| | | |
| --- | --- | --- |
| product name | Pomoly T1 Stove | Winnerwell Fastfold Stove |
| Assembly Dimension | 14.9 x 8.7 x 11.6 in | 15 x 9x 7in (stove body) |
| Weight | 8.6 lb / 3.9 kg | 4 lb/1.8kg (Stove + Chimney Pipe) |
| Chimney size | 6.56ft/2m or 9.84ft/3m,Pipe Diameter:2.4 in | 108 in,Pipe Diameter:3 in |
| Material | titanium | titanium |
| Price | $495.98 – $505.98 | $499.00 |
Conclusion:
These two titanium stoves have their own characteristics, camping enthusiasts can choose according to their own needs.