Pomoly LumberJack Wood Stove Pros and Cons Comparison
Posted On 2022-10-29
Did you go camping or hiking with your friends or family? Have you heard of portable wooden tent stoves? If not, you must miss the beautiful natural scenery outside. You can choose a wood stove below to take your friends and family camping or hiking. At present, Pomoly has launched a new LumberJack Wood Stove. What are its advantages and disadvantages? Let's compare them together!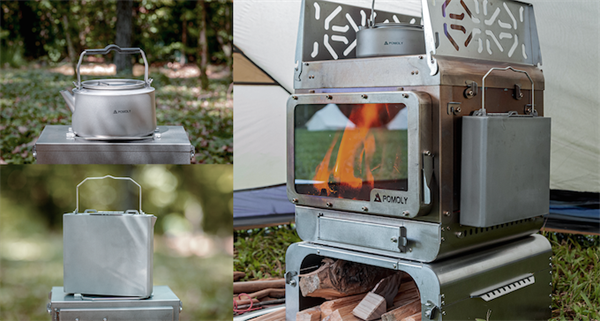 Shop Now:Pomoly LumberJack Wood Stove
Pros
100% Titanium
Portable +Fast-fold
Fireproof glass
Controllable intake
1.100% Titanium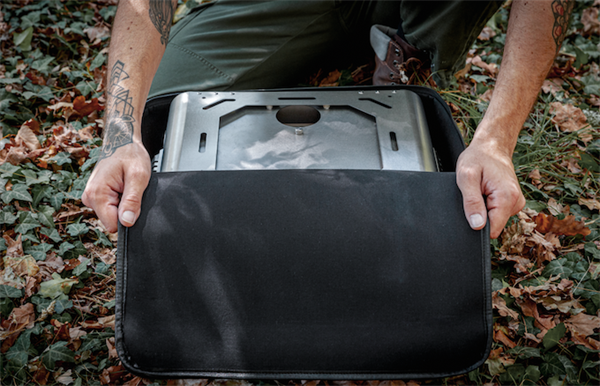 Most tent stoves on the market are made of stainless steel or iron. Pomoly lumberjack Wood Stove uses more expensive titanium. What's the difference between these three materials? Why are their prices so different?
Iron Stove. First, let's talk about iron. The price of our common iron stove on Amazon is very cheap. We can't see the difference between stainless steel and titanium stove in appearance. The iron stove is easy to rust after use. Therefore, it isn't easy to use your stove again in 1-2 years.
Stainless steel stove. In the market, stainless steel stoves are usually more expensive than titanium stoves. In addition to the stainless steel can be used for a longer time, it is also easier to clean. However, the disadvantage of stainless steel is that it is cumbersome, especially for those who want to travel on foot, it is not easy to carry a stove of more than ten jin on the road.
Titanium. Titanium is light and not easy to corrode, so it has the advantages that stainless steel stoves do not have. In addition, titanium is good for people's bodies. Many rich people's pots and pans are also made of titanium. Although the price is expensive, the titanium furnace is the best choice for people in terms of weight and hygiene!
2. Portable +Fast-fold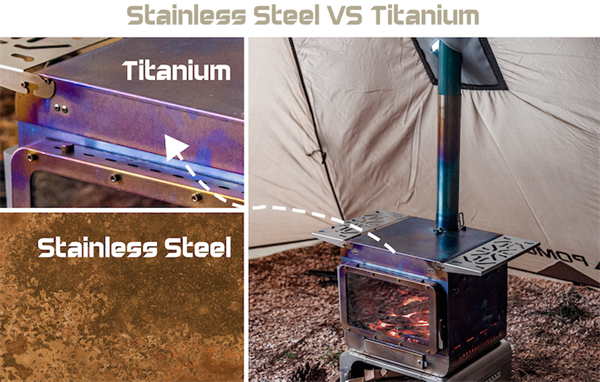 When we choose a stove, we always check whether it is portable. The Pomoly LumberJack stove adopts a modular design, so you can quickly assemble and disassemble the tent stove. This design is not only convenient. After you use the Pomoly LumberJack stove, you can clean it more easily, including folding the firebox into the base. All the accessories of the Pomoly LumberJack stove can be loaded into a portable bag, which is popular!
3. Fireproof glass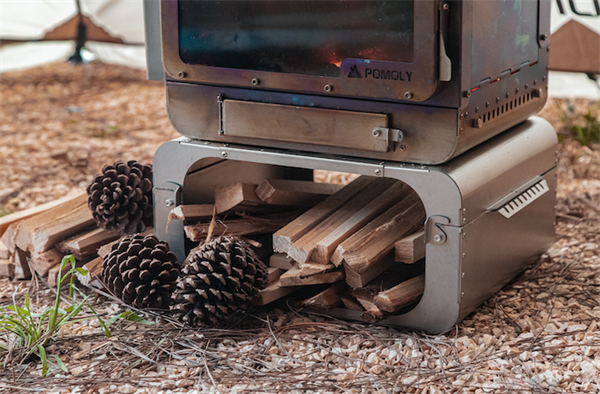 The oven also has a heat-resistant high-temperature side glass that makes it easy to keep what you're baking—or cooking—under visual control.
4. Controllable intake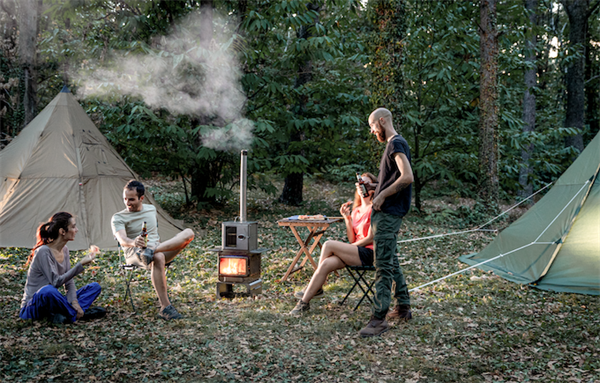 In fact, on both sides of the stove and the top of the stove's glass, you'll find a Sliding Intake Control, allowing you to slide it in or out to control the air intake for the wood to burn better. It also allows you to let the smoke get out.
Cons
Expensive. LumberJack Wood Stove has a complete range of functions. It can be said that it is the best tent stove. In terms of its material and design, it is perfect. If you had enough money, would you choose to buy it?