Onetigris TEGIMEN Hammock Awning Pros And Cons
Posted On 2021-04-27
About OneTigris
Founded in the summer of 2014, OneTigris is a tactical gear company based in Shenzhen, China, with the vision of becoming one of the leading tactical gear brands in the world. OneTigris product lines focus on tactical dog gear, airsoft gear, camping and survival gear, and EDC gear.
Many people choose to camp in winter. Traditional camping tents are usually single pole tents with poles attached. OneTigris has produced a hammock-style winter camping tent. TEGIMEN Hammock Awning & Hot Tent does not require poles, and mainly uses ropes and tent nails to fix and support the tent.
Why Choose OneTigris TEGIMEN Hammock Awning & Hot Tent?
A product completely shields a hammock or hot tent camper from the wind and rain, also enabling tent stoves to be used when winter camping. Some may ask, why hammock camping in the winter? Because melting snow means cold and wet gear/attire, and a hammock will keep you nice and dry above the ground. "Tegimen" means protection, covering, and body armor in Latin, and this shelter awning is exactly that. It's a cost-efficient, lightweight and compact solution for bushcrafters and outdoor loving folks that has a sod skirt to prevent winter chills from seeping in through the bottom gaps, and burning stove compatibility with heat retention functionality for you to stay warm with a burning stove.
Onetigris TEGIMEN Hammock Awning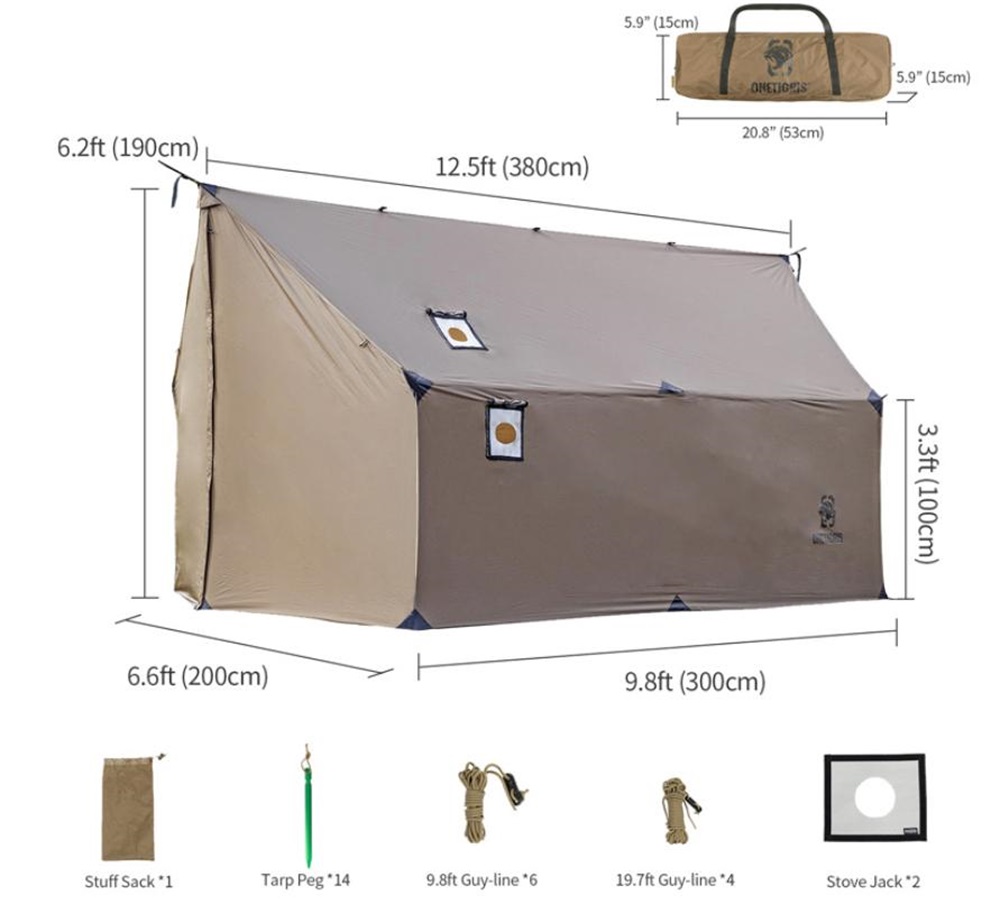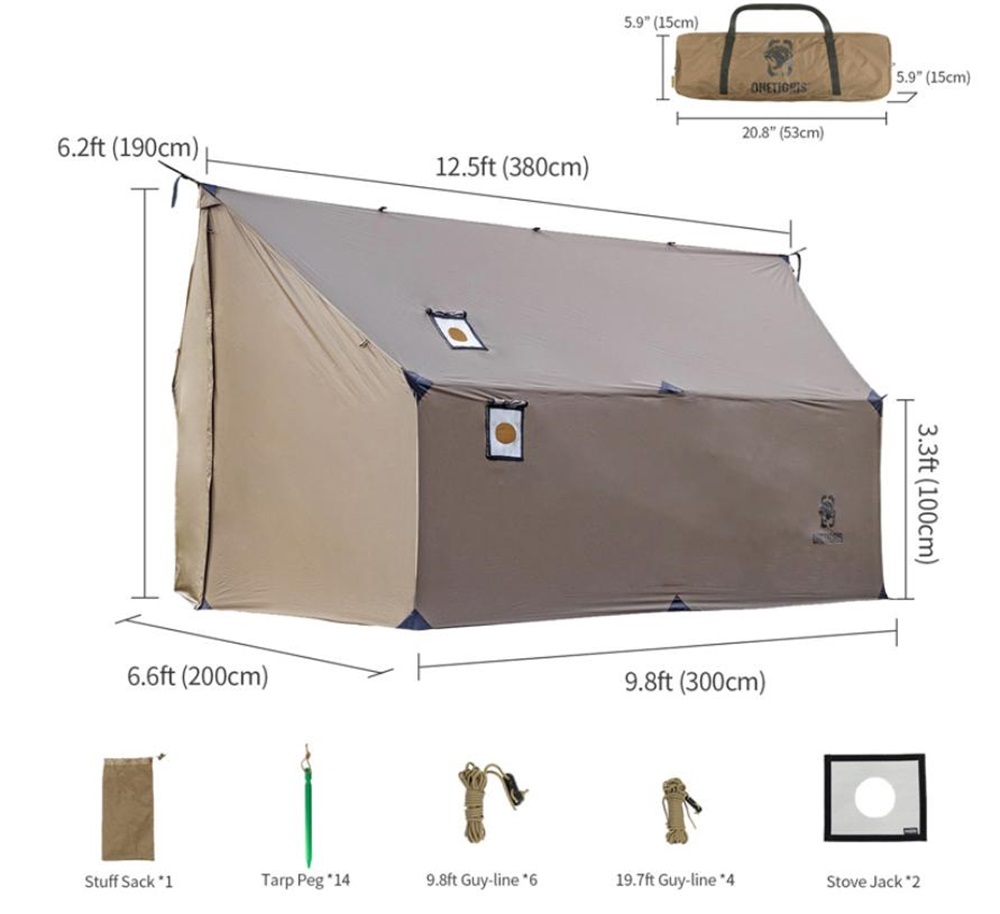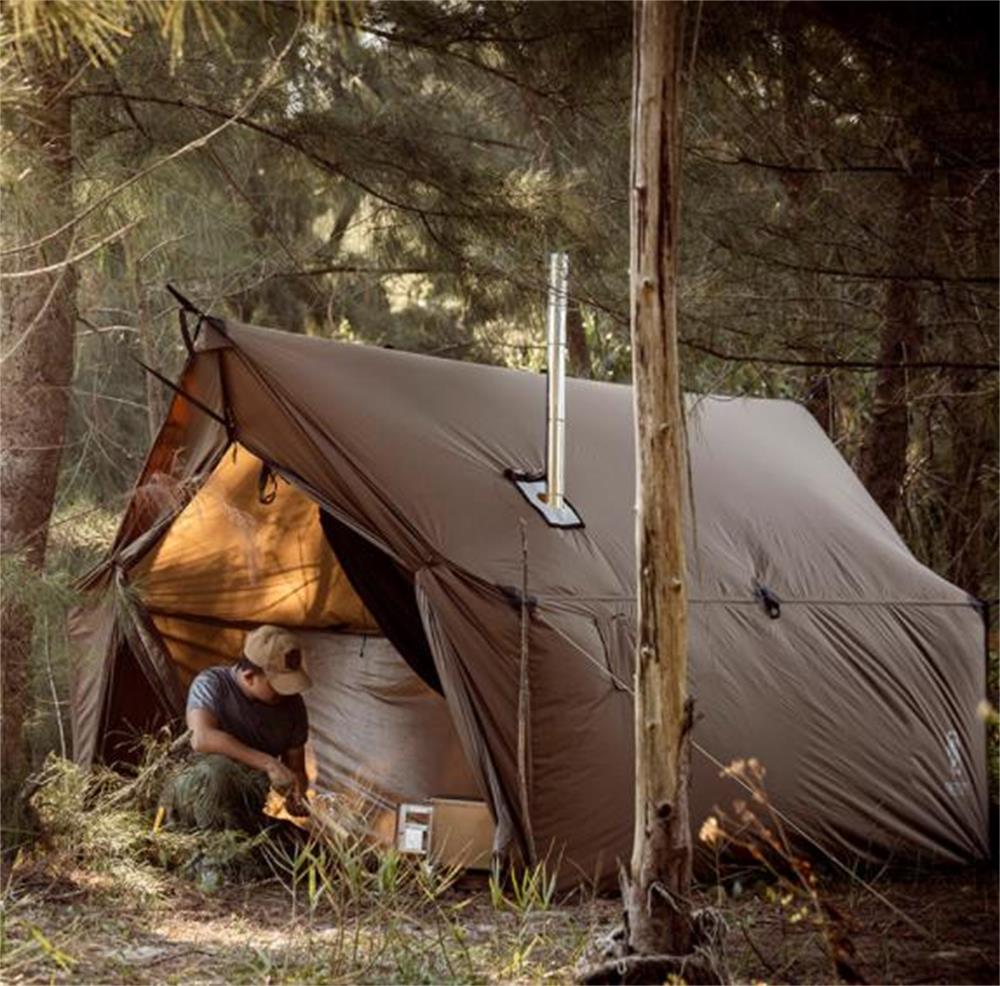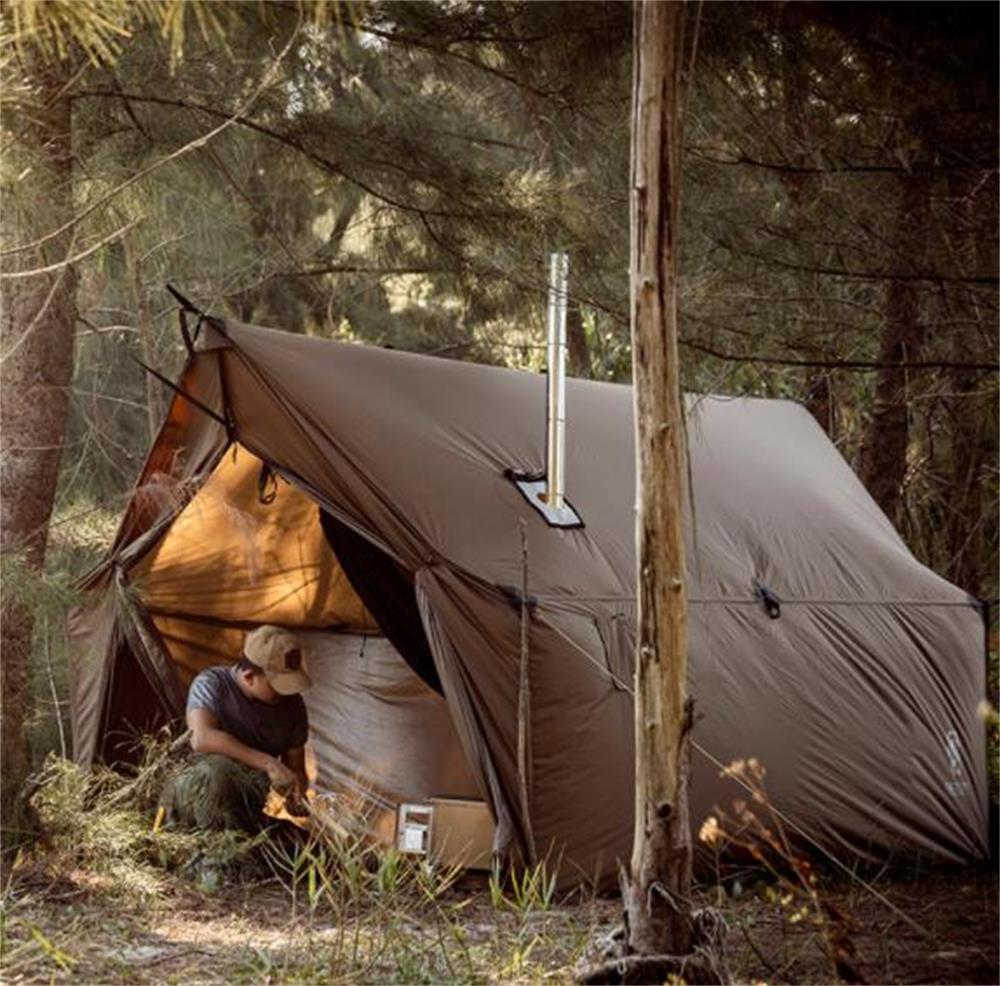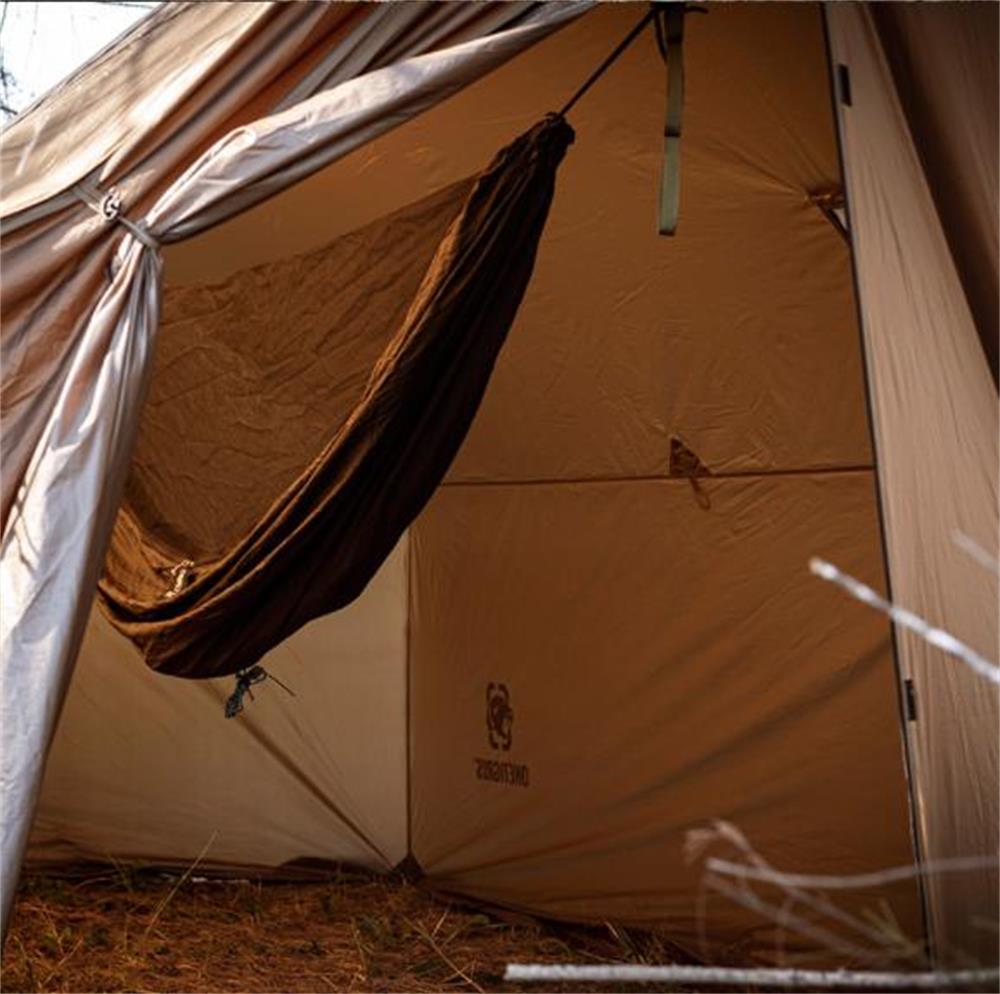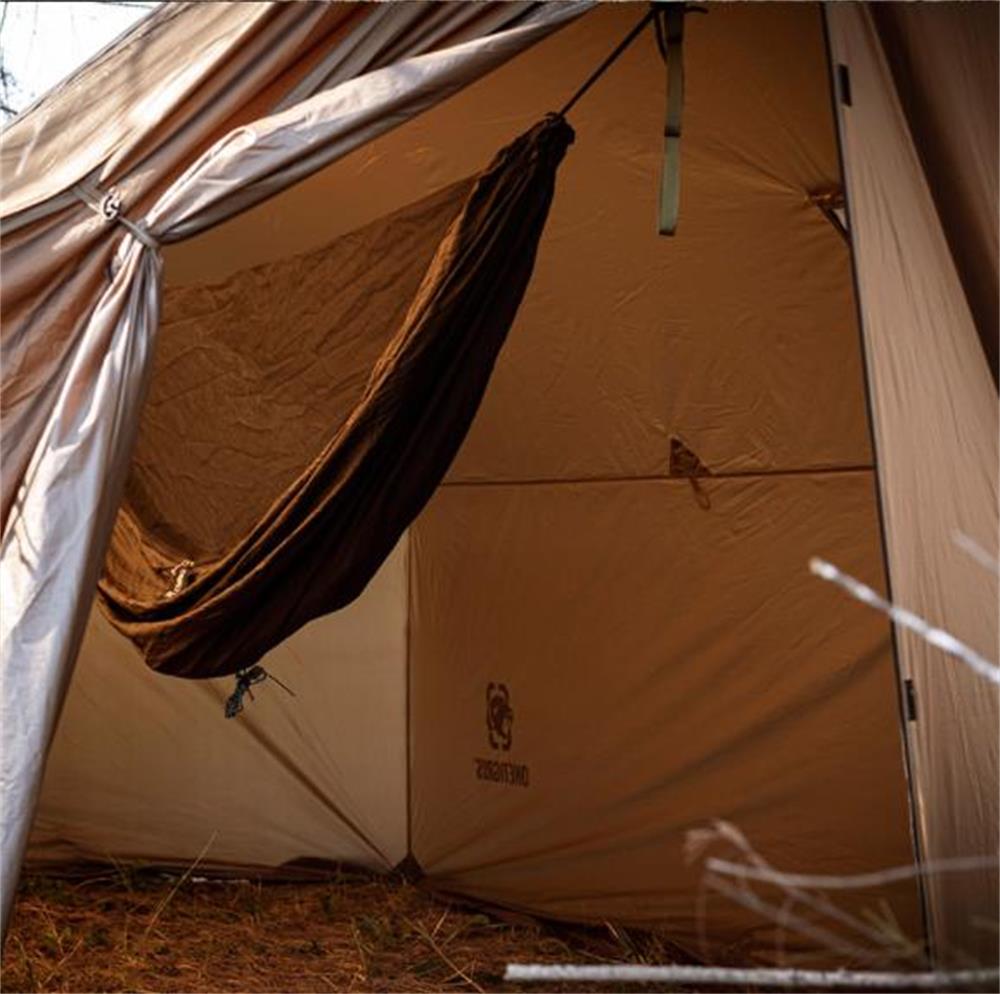 Package Includes:
OneTigris TEGIMEN Hammock Awning & Hot Tent *1
Tarp Peg *14
9.8ft Guy-line *6
19.7ft Guy-line *4
Stove Jack *2
Stuff Sack *1
As can be seen from the accessories included in the tent, this hammock-style tent does not come with poles and is completely supported and fixed by wind ropes and ground nails.
Product Details
Material: 70D Ripstop Nylon;Rugged 70D Ripstop Nylon construction of durability and dirt/water/abrasion resistance
Waterproof Rating: 3000mm
Tent space:Measures at 12.5ft by 6.6ft by 6.2ft to fit all standard-sized single hammocks
Folding Dimension:(53cm * 15cm * 15cm),Lightweight (6.8lb) and compact (20.8" by 5.9" by 5.9" when folded) for easy transportation and efficient storage, easy to carry and place. Including when biking and hiking camping, carrying is completely unimpeded.
Tent skirt:Wind-proof sod skirt with heat retention functionality to keep winter campers warm
Stove Jack:This tent comes with 2 chimney openings, and the position of the stove can be adjusted according to needs
Youtube video
Hot Tent Comments:
1、This is awesome! Blowing my mind! Keep it the amazing content. Inspired me to start hot tenting.( –Philip Masturzo from Youtube )
2、YEAH, that's what I've been looking for since I do prefer to sleep in a hammock even at home ☺️ Tried to figure out how it would work within any tent on the market but couldn't find any appropriate solution yet. Now here it is ❣️( –Anne Li from Youtube )
3、Love the Hammock Hot Tent from OneTigris. Great engineering design. You sure had a great concept. Very spacious. Looking forward to future clips with it.( –Michel Dumont from Youtube )
Most of the hot tent camping enthusiasts have a very high evaluation of this camping tent with a hammock design because setting a hammock in the tent seems to be a difficult thing to achieve in traditional tent camping. This hammock tent meets this demand. You can set up a hammock in the tent and lie in it to enjoy a good leisure time. The internal space of the tent is large enough, even after the hammock is set, there is still enough space for other camping equipment such as a tent wood stove. The tent has good warmth retention. Burning wood in the tent for heating, there is no need to worry about the coldness of winter camping. When using wood stoves, you must pay attention to ventilation, which is very important to avoid the danger of excessive carbon monoxide concentration inside the tent.
Since this tent is a hammock-type tent, the stability of the tent is relatively lacking compared with that of a single-pole tent. In use, if you encounter blizzards and windy weather, it is easy to cause instability and even collapse of the tent. Therefore, it is necessary to clean up the snow that has fallen on the tent in time. The place to build a tent must be on relatively flat ground and a place with strong trees. The two trees used to build the tent must be at a certain distance, so that the shape of the tent can be tightened and straightened, thereby reducing the possibility of the tent collapsing.
Advantages:
Lightweight, small storage volume, easy to carry
The space is large, and there is still enough space for activities after the hammock is installed inside, which makes people feel comfortable.
The hammock has a novel design and has a certain distance from the ground. This prevents the infestation of ground reptiles while sleeping, and at the same time avoids the discomfort caused by wet ground.
With two chimney openings, the position of the furnace can be adjusted according to requirements.
Disadvantages:
There is no support pole to fix the tent, only through the wind rope and ground nails. The tent is easy to deform in bad weather.
The hammock lacks stability compared with ordinary camp beds. Pay attention to safety when using it, not suitable for people who are too fat.
Conclusion:
if you want a hammock, this tent is a good choice. Large space and good warmth retention. It can add some different fun to your winter camping.