Camping hot tent│ list of common equipment for primary camping
Posted On 2022-04-09
If you decide to go camping in a hot tent. Then you should know some professional knowledge of hot tents and other equipment.
First of all, what is hot tent camping?
Hot tent refers to a tent that can use a stove in the tent. It is very popular when camping in winter. When planning to camp in a camping hot tent, there are many things to remember. Not all tents are suitable for making a fire, whether in a stove or as an open fire.
Hot tent camping, winter camping uses the stove in the tent to heat the hot tent. Why don't you try it, too? Imagine sitting in a tent, listening to the rustle and crackle of the stove, while warming up after today's adventure. When you gather around the fireplace, your clothes dry and the food tastes stale.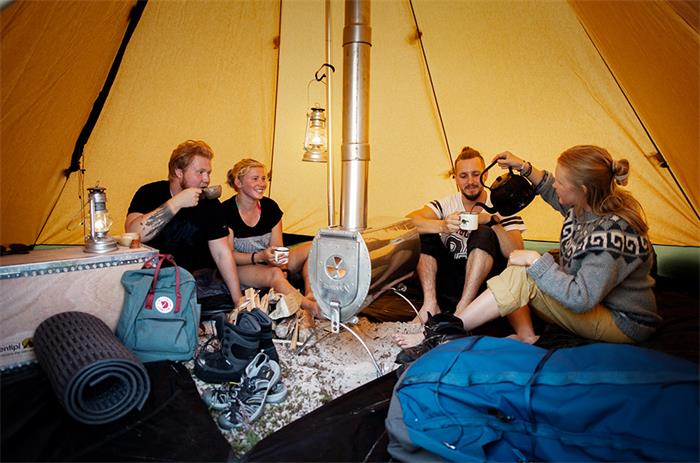 If you need it, please read it carefully and save it.
Carry with you: knife, lighter / Firesteel, whistle, compass, map, mobile phone, charger, snacks, spiked bait (keep them close to the body to keep warm).
Packaging: sturdy bags not needed at home and waxed canvas packaging for food and cooking kits.
In a Camping hot tent: shelter, tent stove, with furnace and thermal reflector, tent nail, stove thermometer, additional wire and stove gloves, canvas ground waterproof cloth.
Clothing: boots lined with Alpaca felt. Match with heat insulation and moisture-proof socks, gloves and hats, long and short sleeves, jackets and trousers.
Sleeping bags and cushions: if the temperature is expected to be particularly low, add other bags / linings.
Snowshoes: Faber snowshoes with lampwick binding or modern snowshoes with built-in plastic binding.
Lamp Kit: headlamp and f flashlight with additional battery.
Fire fighting Kit: matches, lighters and Firesteel, wax cotton igniters or other reliable ignition methods.
Electronic kit: charger cable, additional rechargeable battery for flashlight / headlamp, hand warmer, headset.
First aid kit: first aid and emergency supplies (air horn).
Other miscellaneous equipment: bungee jumping, sunglasses, reflective ribbon, square milk box, food drying bag, leather work gloves, adventure oath buck saw and blade replacement, bahco handsaw, full-size wettings forest axis, jute rope for tie, zipties, hand sanitizer and TP, broom, aluminum snow shovel, Leatherman (with thread cutting pliers).
Take and leave the vehicle: full tank of gasoline Firewood, hard edged snow shovel, plastic spoon grain shovel, jumper cable, spare tire, wool blanket, spare sleeping bag / mat, extra food / snacks, changing warm clothes, Coleman burner and lanterns.Being well prepared will make the camping experience better. In addition to the camping equipment you need to carry when preparing a hot tent for camping, you also need to check the campsite and surrounding environment. The original intention of hot tent camping is to enjoy nature, exercise and relax, so it should be carried out according to our physical quality and practical ability. I hope our suggestions are helpful to you.