Best Tent Wood Stoves for Camping in 2022
Posted On 2022-04-20
If you are a camping enthusiast, you must use a portable stove. For campers. A stove is one of the indispensable pieces of equipment for camping. As an experienced person, I not only often camp, but also use many styles of stoves. I think I am qualified to recommend you a portable wood stove that is easy to use and cheap.
Therefore, in this guide, I will introduce you to some of the best wood-burning stoves popular in the market, describe them in-depth and tell you their advantages and disadvantages.
But before that, take a quick look at the stoves you want. I've listed these top wood stoves for backpacking in case you're in a hurry:
1. Pomoly Altay tent stove
2. TAISOCA-Oven-Stove
3. Dweller Wood Stove
4. DANCHEL OUTDOOR Portable Titanium Tent Wood Stove
5. Fltom Camp Tent Stove
6. WINNERWELL Fastfold Titanium Tent
Pomoly Altay tent stove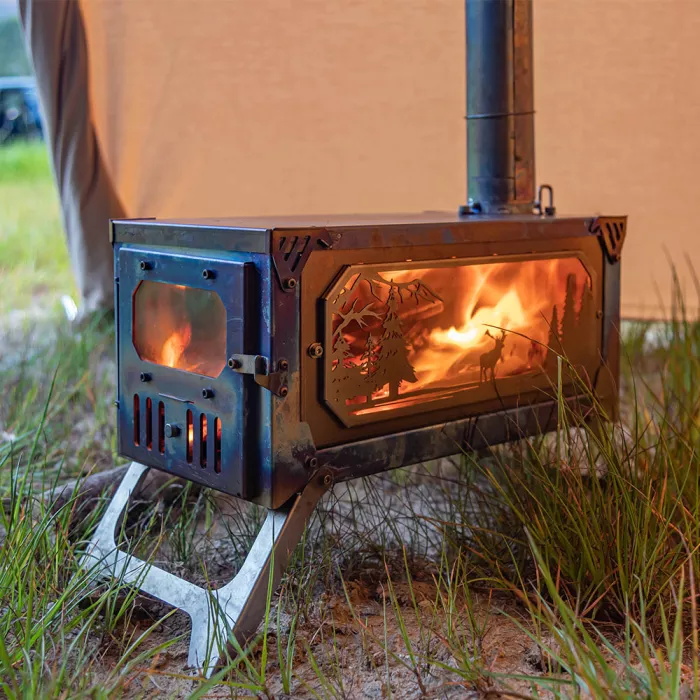 Size: 15.4 x 7.9 x 11.2 inches (39 x 20 x 28.5 cm)
Weight: 7.9 lbs /3.6 kg
Our Rating: 4.7/5
Best for: People who don't like carrying heavy things
Conclusion: titanium is a rare material for most camping stoves. Compared with the cast-iron wood-burning stove you see in the cabin, titanium is lighter and therefore easier to carry. If you're camping, a stove that's too heavy to move won't be of much use. That's why titanium is a good choice.
Pomoly Altay tent stove is a lightweight camping stove made of titanium. This handy little stove weighs only 5 pounds and can be placed flat in a handbag
Shop Now: T-Brick Altay Winter Version | Portable Titanium Wood Stove for Hot Tent Camping |
TAISOCA-Oven-Stove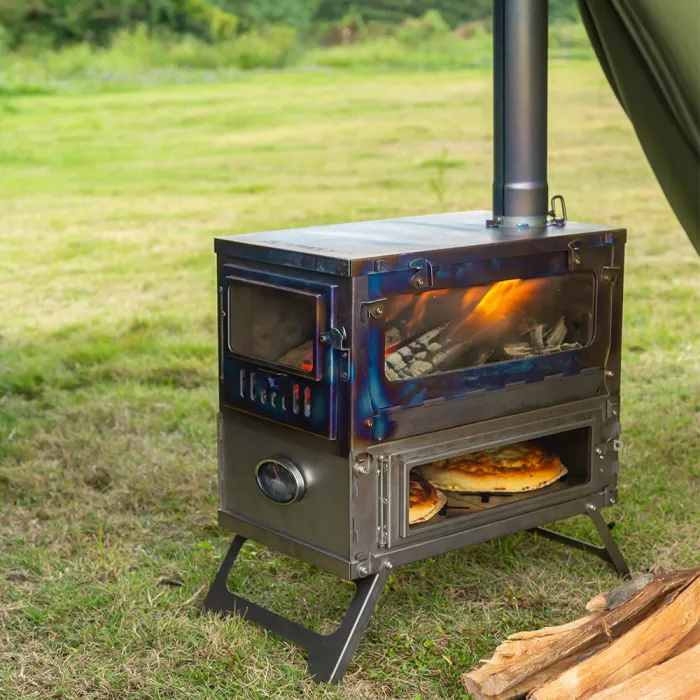 Size: 17.7 x 8.7 x 12.6 inches (45 x 22 x 32 cm)
Weight: 8.16 lbs / 3.7 kg
Our Rating: 4.8/5
Best for: people who need to bake bread and pizza.
Conclusion: this oven has more functions than ordinary ovens. T1 taisoca leg is made of a whole titanium plate and has a stronger load-bearing structure. The convex design in the middle of the furnace leg is suitable for uneven ground. Suitable for different hot tents, we can freely choose the direction of the oven door. Through the hollowed-out grill, hot air can circulate at the bottom of the food to heat the food evenly.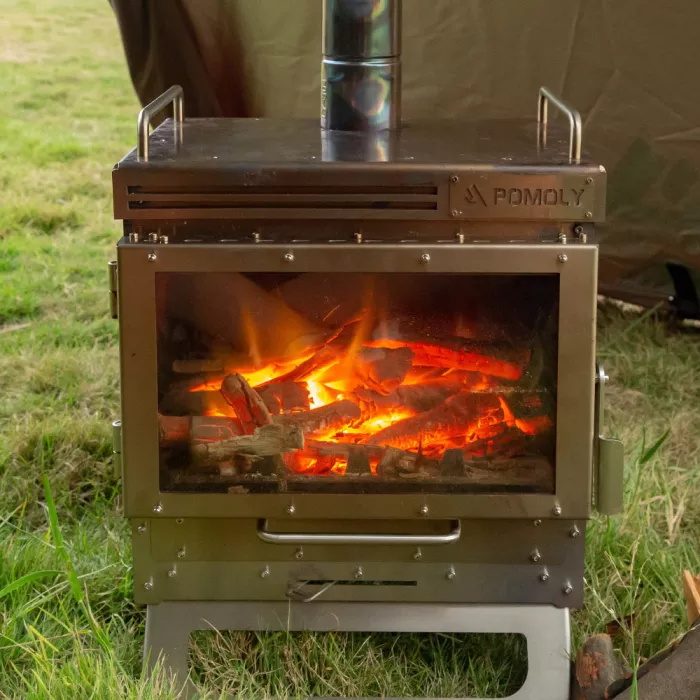 Size: 12.4 x 12.6 x 8.86 inches / 31.5 x 32 x 22.5 cm
Weight: 22.7 lbs / 10.3 kg
Our Rating: 4.6/5
Best for: Car camping or family camping
Conclusion: the most unique point of dweller wood stock is the air curtain technology. The purpose of the air curtain is to create a "secondary combustion chamber". Smoke particles rising from the hot gas of the fire are trapped under the air curtain. These smoke embers and particles are then re-burned. Then they can now escape through the chimney. It looks more like a heatwave than smoke. The result is very clean combustion. The air entering from the top will move downward to form an "air wall" between the glass and the flame, to clean the glass and prevent the glass from blackening. The wind curtain is closed before combustion. Once the fire reaches the appropriate intensity, the wind curtain can be opened after 3 to 5 minutes. Then, the air curtain operates in a stable state during the whole combustion process. At the same time, AA also has the setting of the ashtray. The embers burned in the firebox can quickly fall into the ashtray, and you can quickly clean the furnace.
DANCHEL OUTDOOR Portable Titanium Tent Wood Stove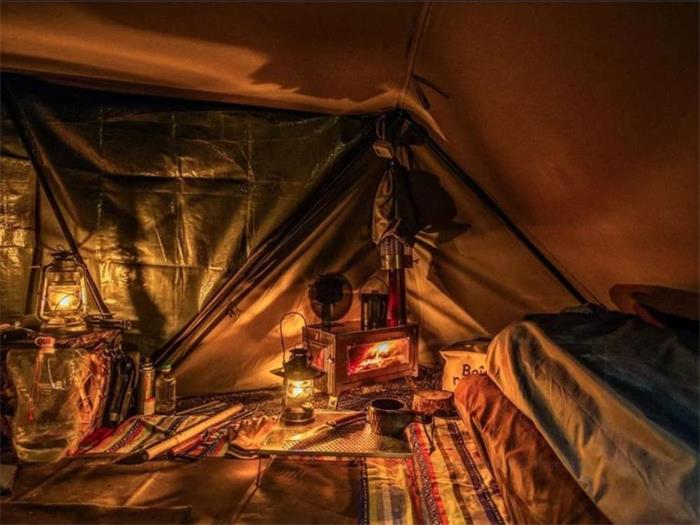 Size: 14.7 "x 8.3″ x 10.8 "
Weight: 5 pounds
Our Rating: 4.2/5
Most suitable for: people who don't like carrying heavy objects
Conclusion: the high-temperature glass on the firebox door allows you to monitor the fire without opening the firebox, to prevent smoke from leaking into your tent. The danchel wood stove has two or four legs to choose from and is equipped with a seven-foot-long chimney tube. But the disadvantage of this stove is that it is too expensive.
Fltom Camp Tent Stove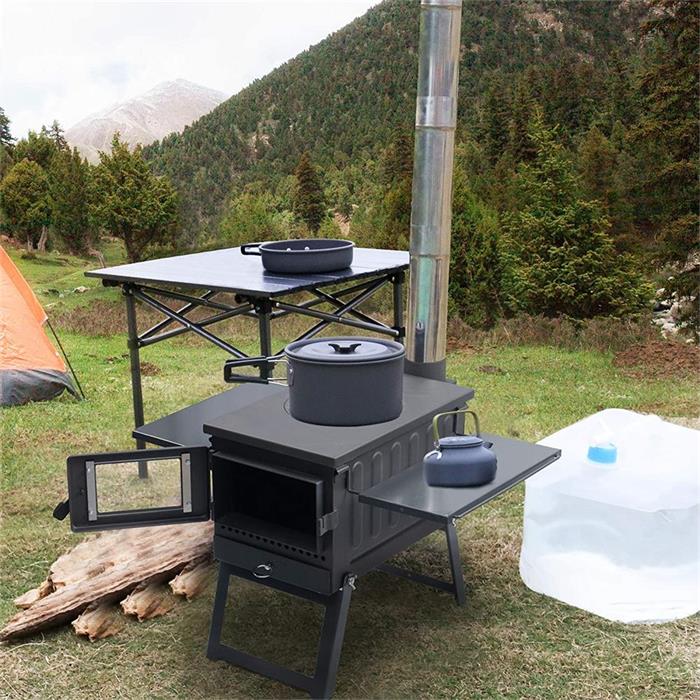 Size: 11.4 "x 7.95″ x 8.66 "
Weight: 23.4 lbs
Our Rating: 4 / 5
Best for: camping with large groups of people in cold weather
Conclusion: fltom camp stop is a small and durable carbon steel stove, so it is very heavy. It's too heavy for hikers.
WINNERWELL Fastfold Titanium Tent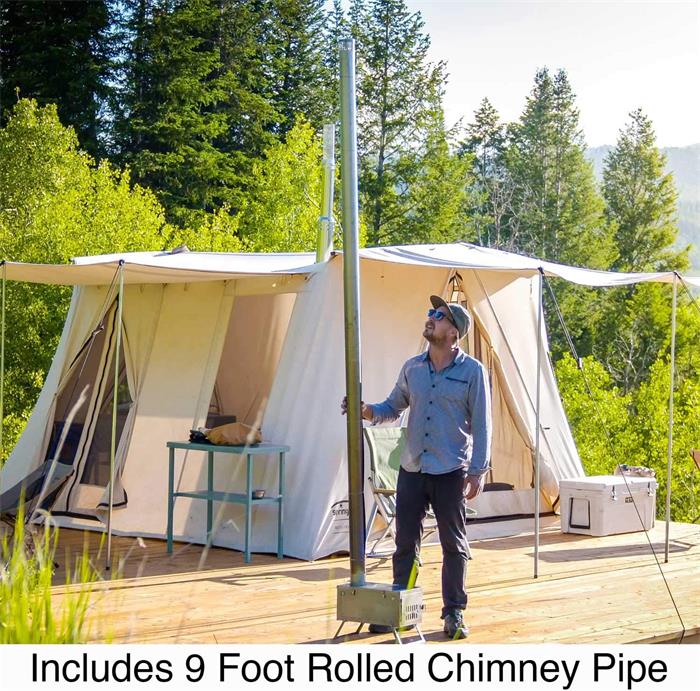 Size: 15 "x 9" x 2 "(package); 15 "x 9" x 7 "(assembly)
Weight: 4 pounds
Our Rating: 4.6/5
Best for: Backpacking, Hiking, and hiking
Conclusion: In cold months, we need a special adventurer to backpack in the wild, but it is rich to see the return of nature in such a primitive environment.
Shortcamping: Expensive, Small.