BACKWOODS BUNGALOW Shelter VS Pomoly FORT Hot Shelter
Posted On 2021-05-07
Camping enthusiasts must know that it is important to build a shelter in the wild. The shelter can not only resist the harsh external environment, but also protect against wind and heat, resist mosquitoes and beasts, and is a guarantee for resting and camping in the wild. Below we introduce two different brands of shelters, namely BACKWOODS BUNGALOW UL Super Shelter 2.0 from OneTigris, and FORT Hot Shelter from POMOLY. We will compare the Pros and cons of these two shelters.
BACKWOODS BUNGALOW Shelter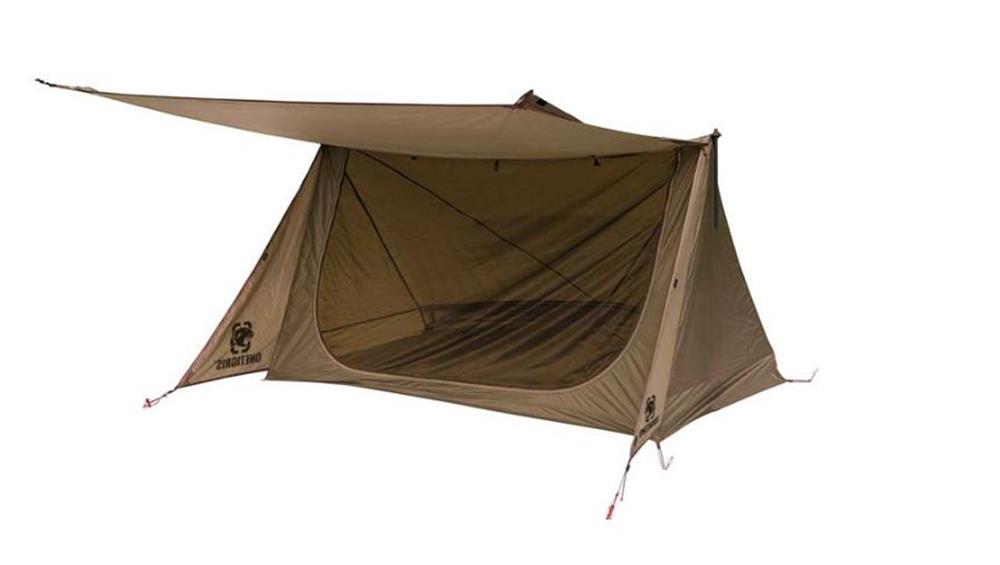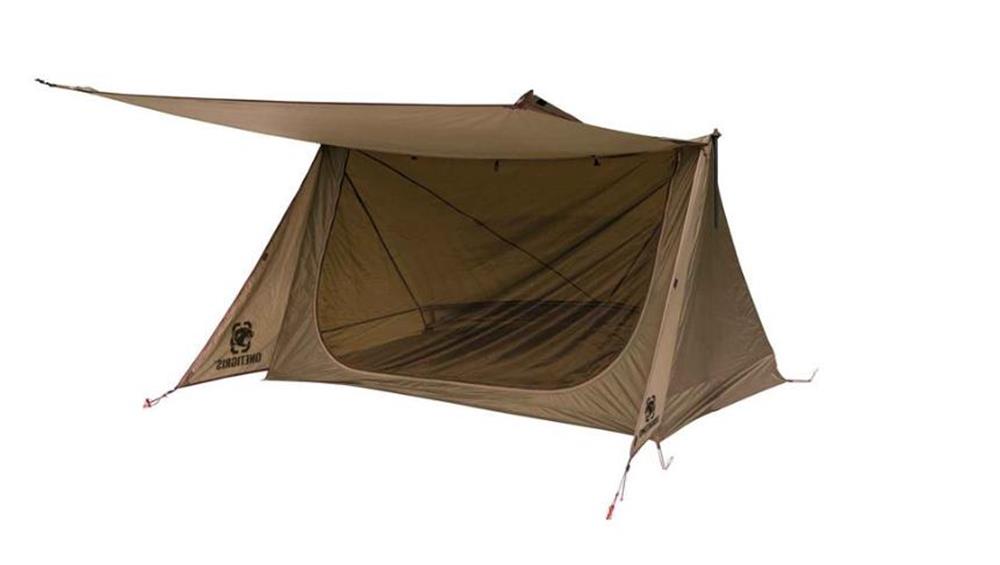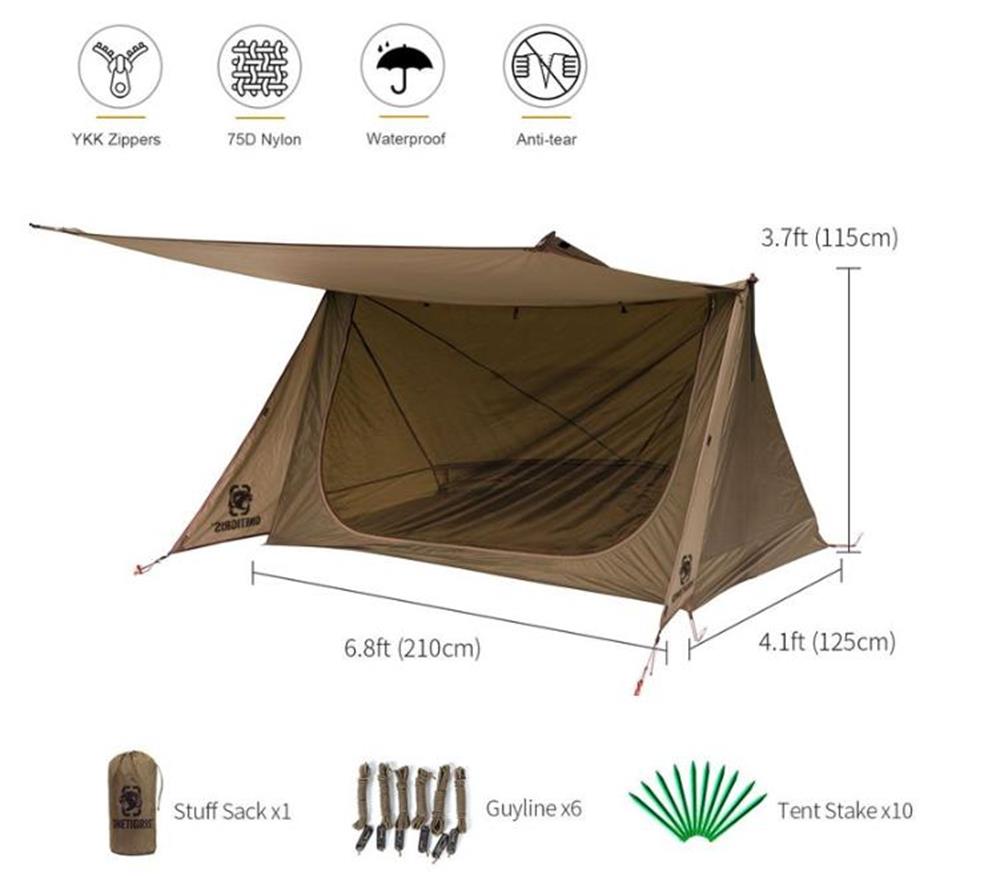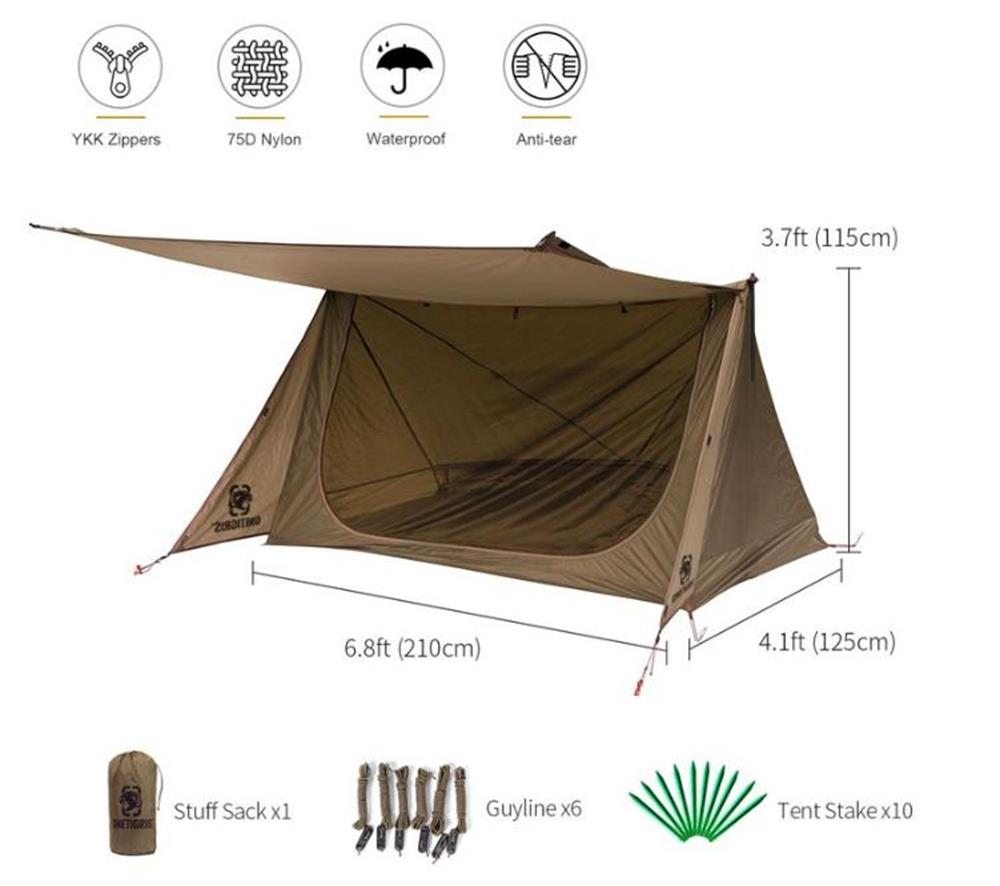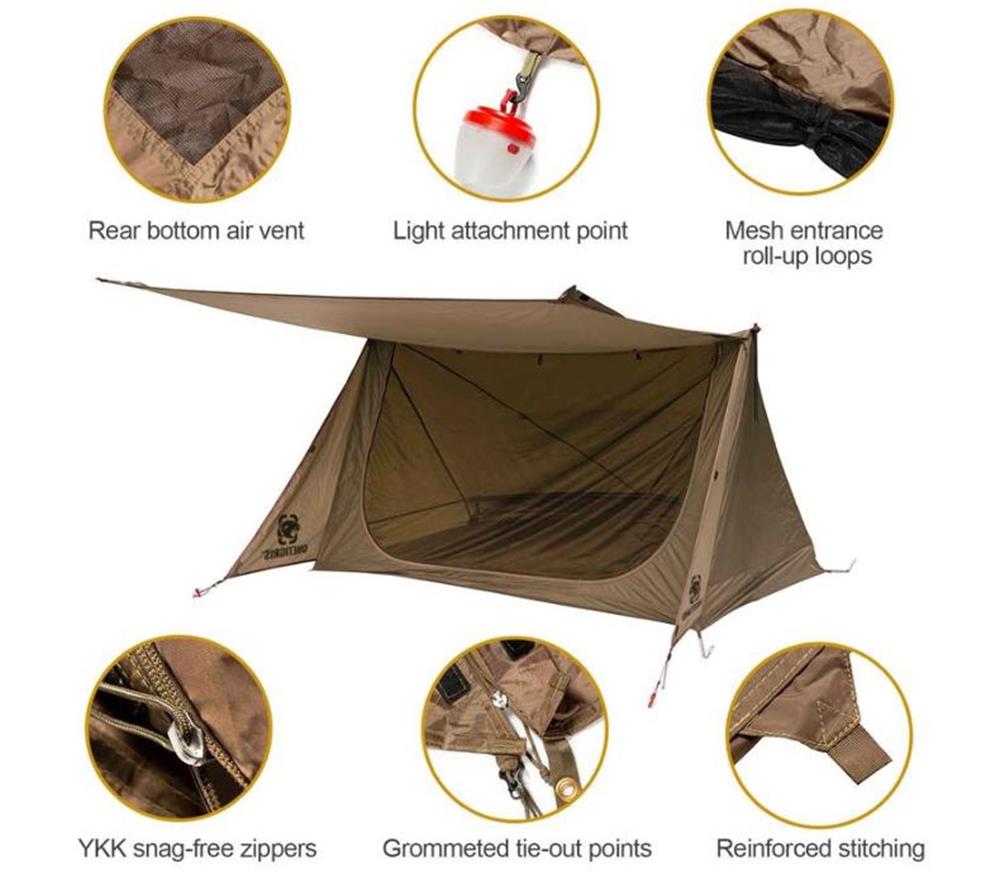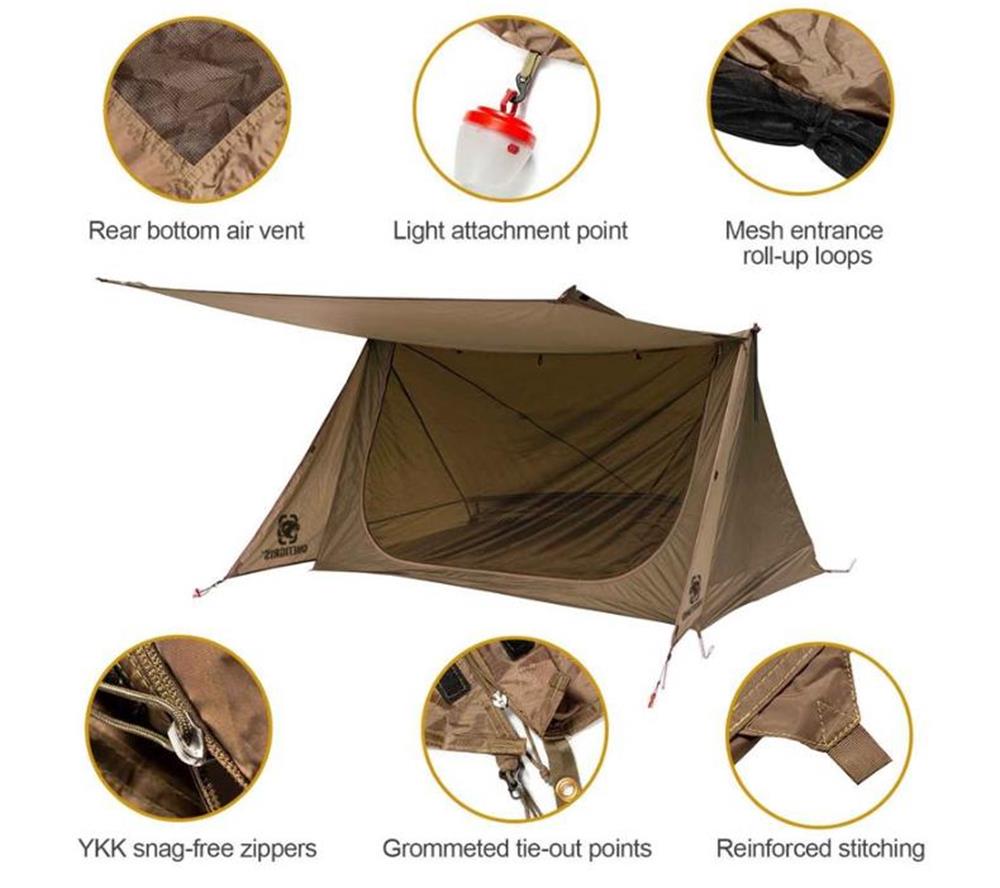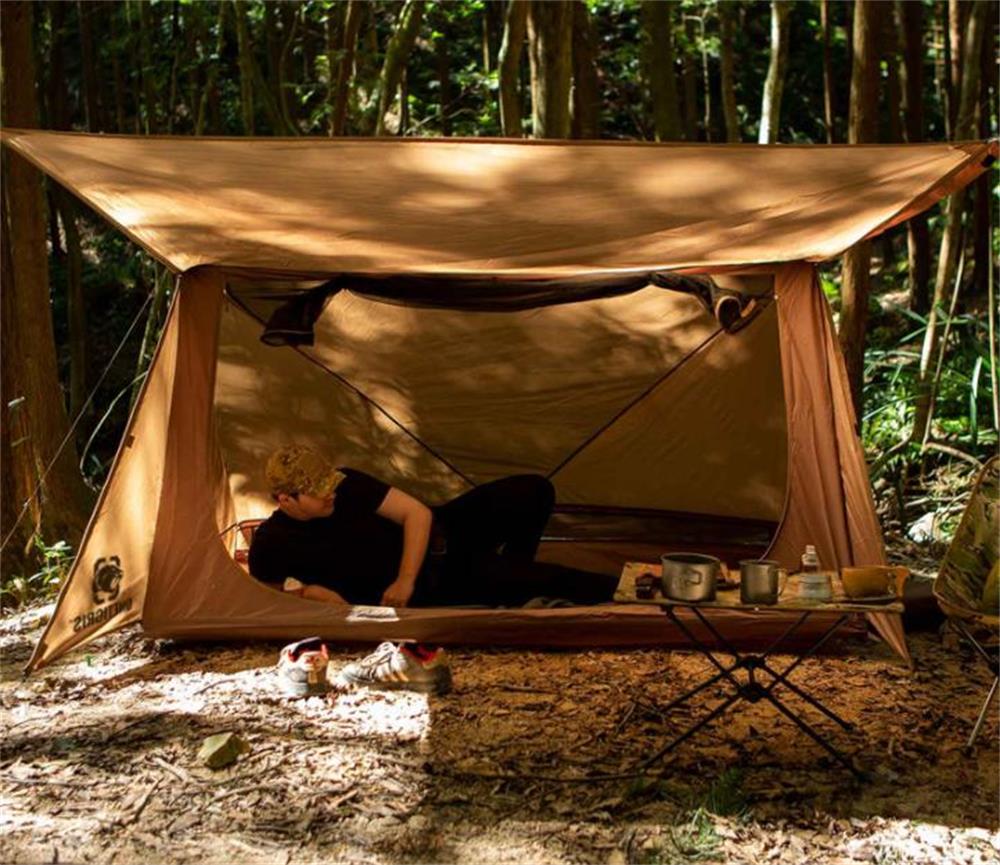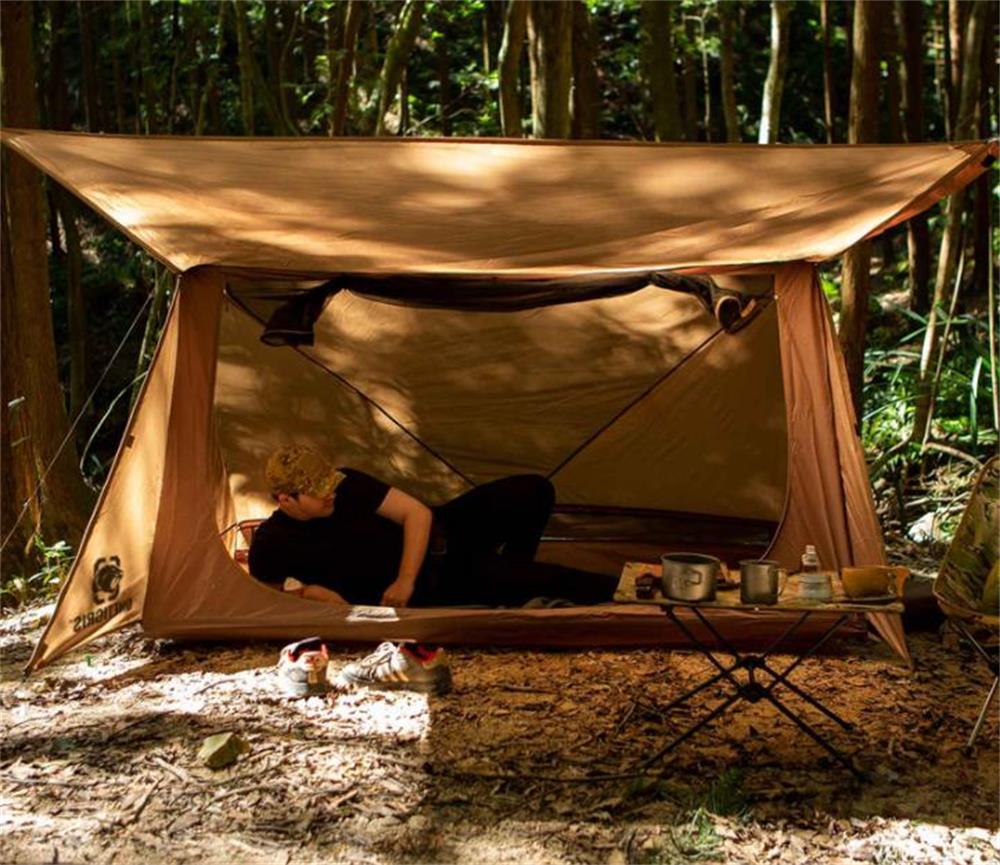 A classic structure similar to baker-style tents with a WWII foxhole look that maximizes the use of tent space in any landscape. This is an upgraded version of the original design, featuring sturdier 75D nylon fabric with a 1500mm waterproof rating, an additional mesh veil to keep insects out, and extra wind resistance via added tie-out points.
Specifications:
Material: 75D Nylon Fabric with PU1500mm Waterproof Rating
Dimensions: 6.8ft(L)*4.1ft(W)*3.7ft(H)/210cm*125cm*115cm
Folded: 15.7"(H)*7.8"(D)/40cm*20cm
Weight: 3.2lb/1450g
Guy-line Length: 9.8ft/3m
Color: Coyote Brown, OD Green
Package Includes:
OneTigris BACKWOODS BUNGALOW UL Super Shelter 2.0 *1
Guy-line *6
Tent Peg *10
Stuff Sack *1
Pros:
Provide a comfortable space for single camping.
The design is very good.
You can use your own ideas to build.
The anti-insect net is very dense, which can effectively prevent mosquitoes from entering the tent.
Good water resistance.
There are 2 colors available, green and brown.
Cons:
The air permeability is not good, and condensation is easy to occur. More suitable for winter camping.
The internal insect-proof net is too dense, which affects the ventilation, and it will be sultry and hot in summer.
YouTube video
comments:
1、Can't imagine you'd find anything near this good for the low-budget price. Going to be my next tent now that I know it's waterproof. Thanks Luke!( –P RO from Youtube )
2、Great tent for the money. If I'm not using my hammock, this is my "go to" tent. Setting it up in porch mode and sitting underneath in a light rain is awesome.( –WoodsWalker 757 from Youtube )
3、I like the design, it reminds me of a smaller version of the old Baker tents and the price seems to be reasonable. Thanks for the review( –mlsknnr from Youtube )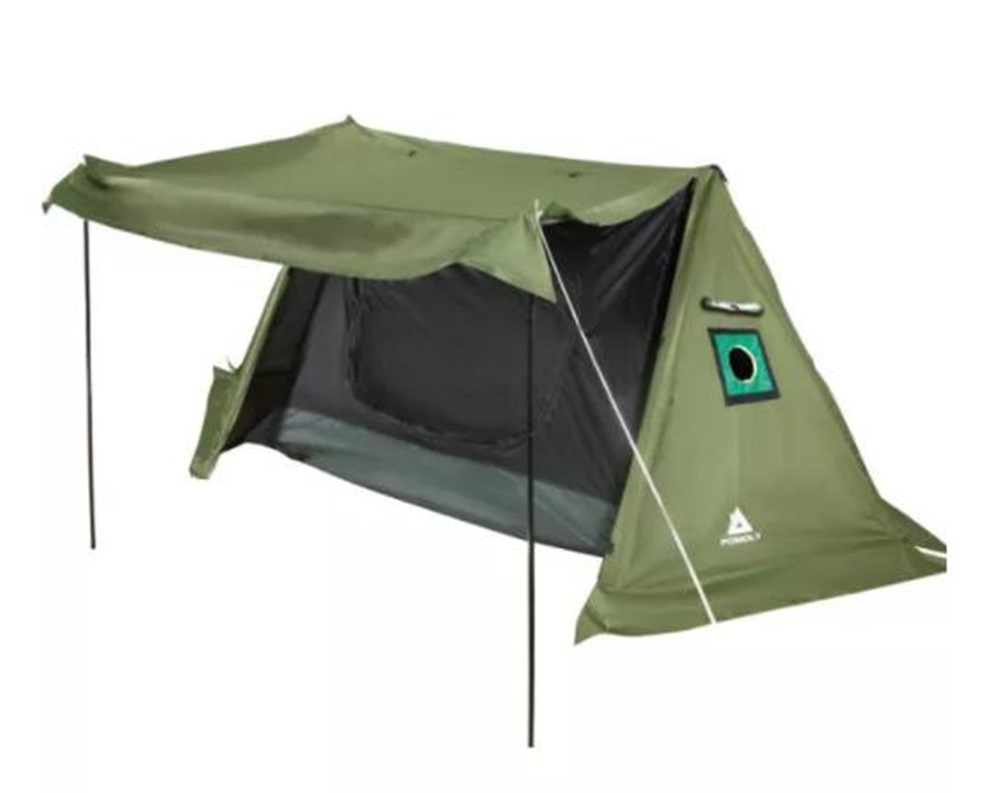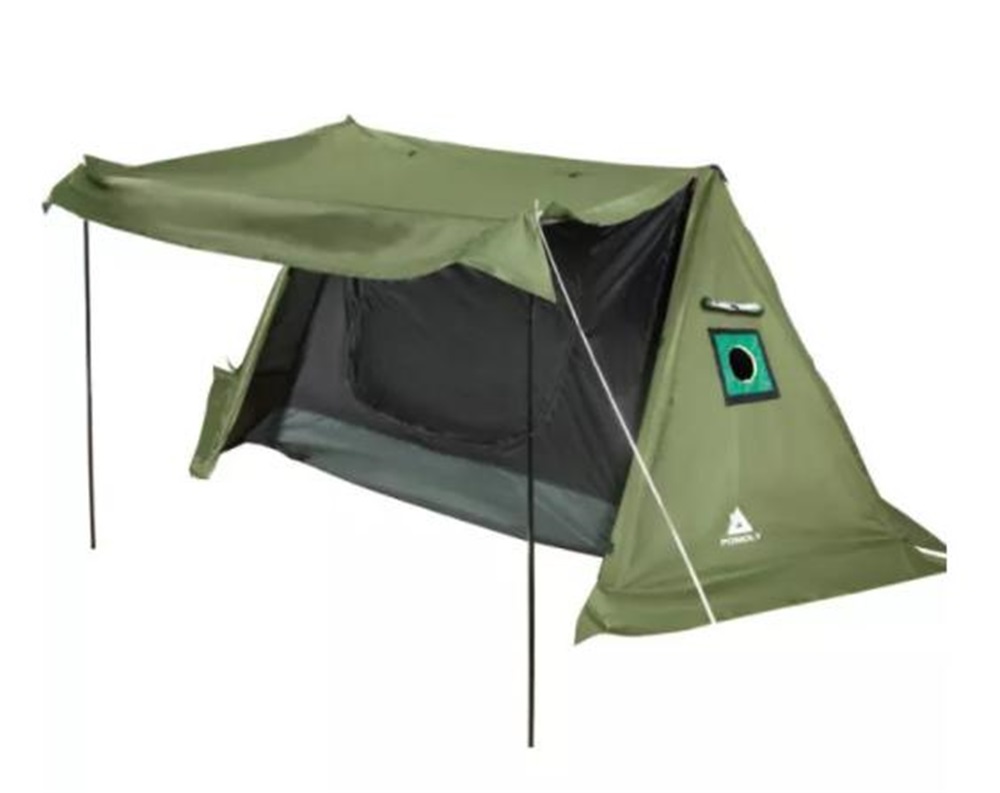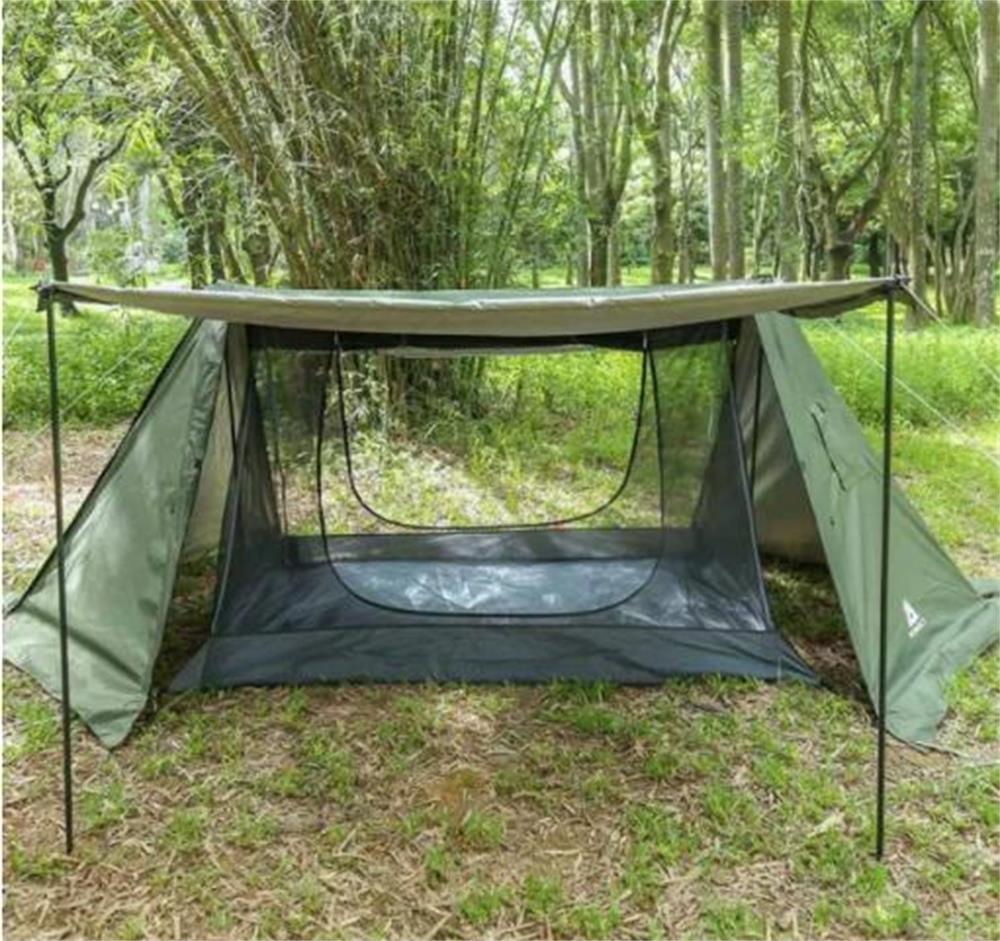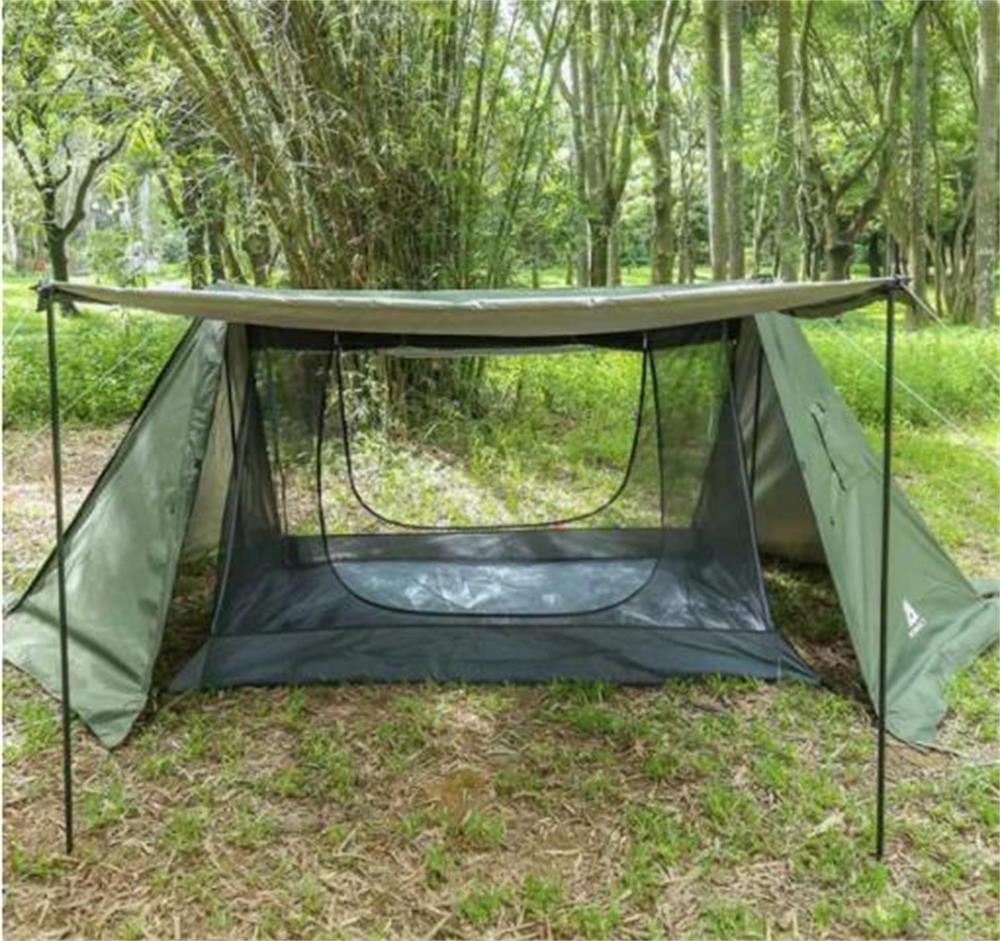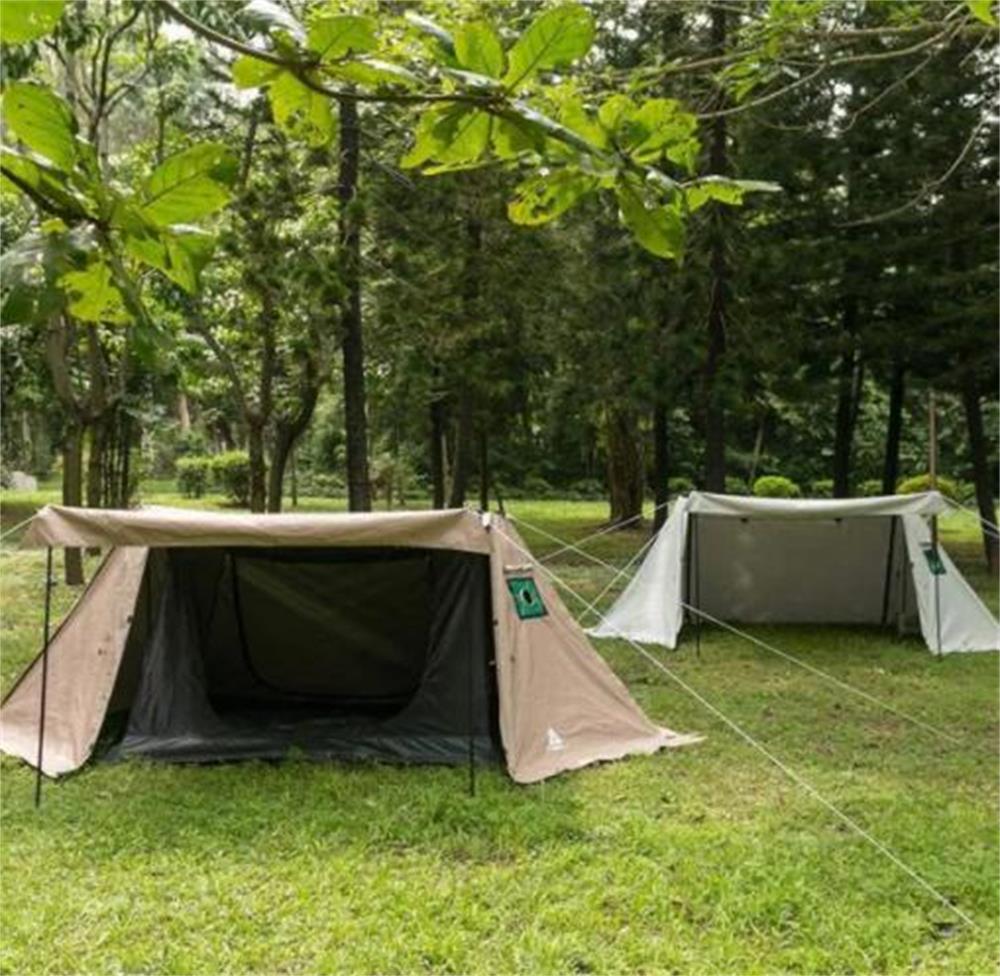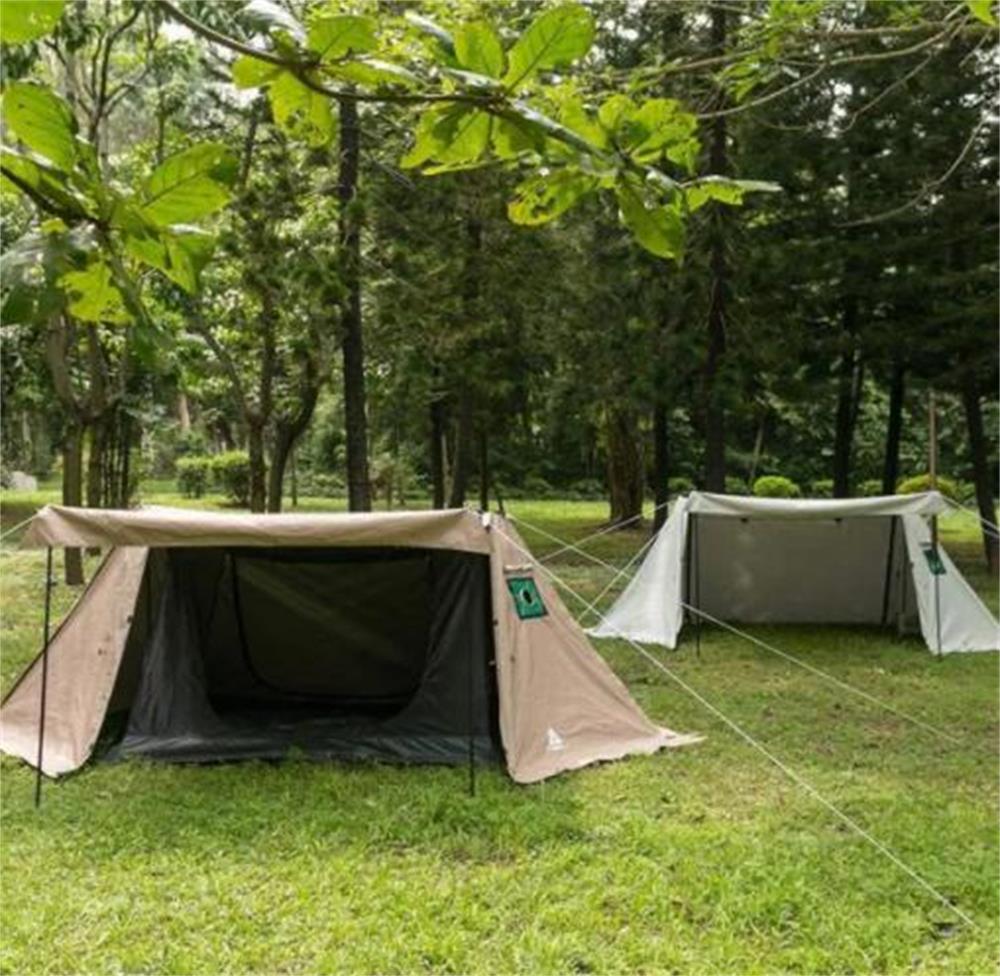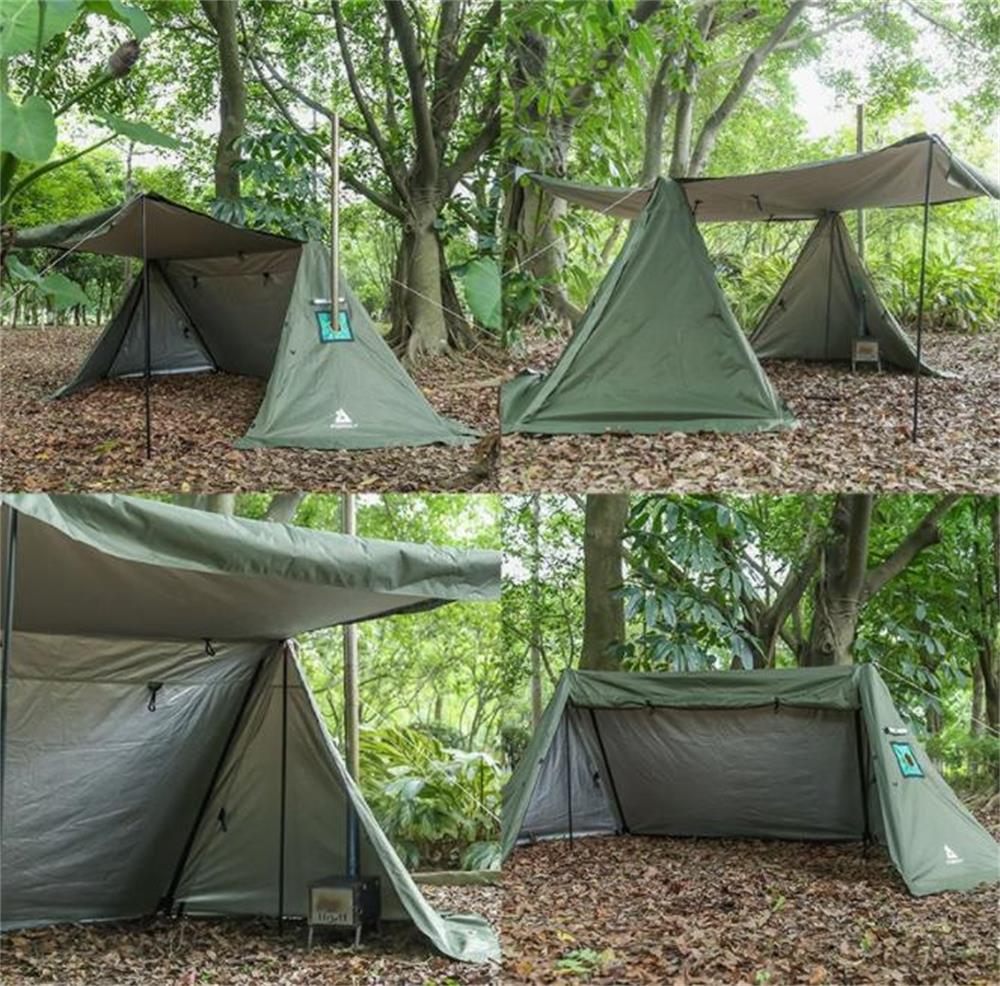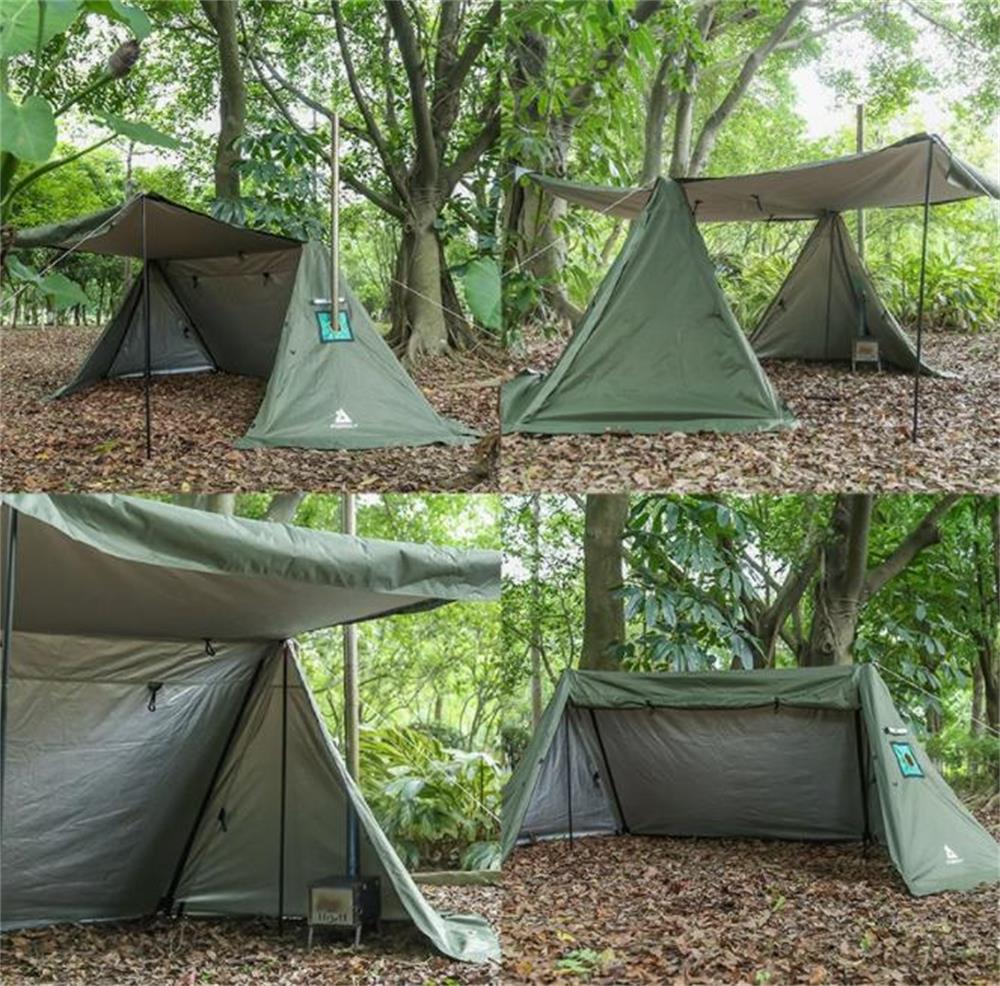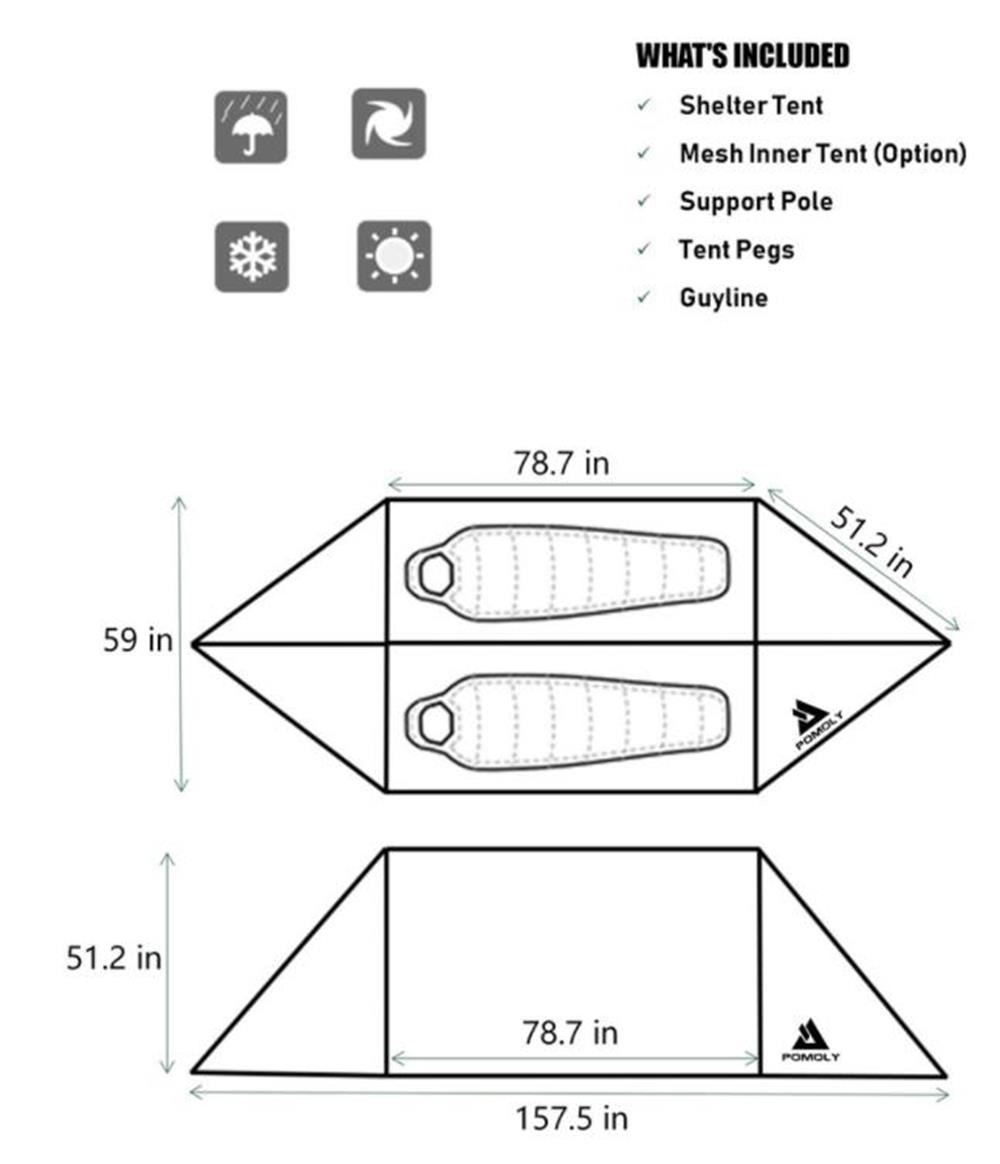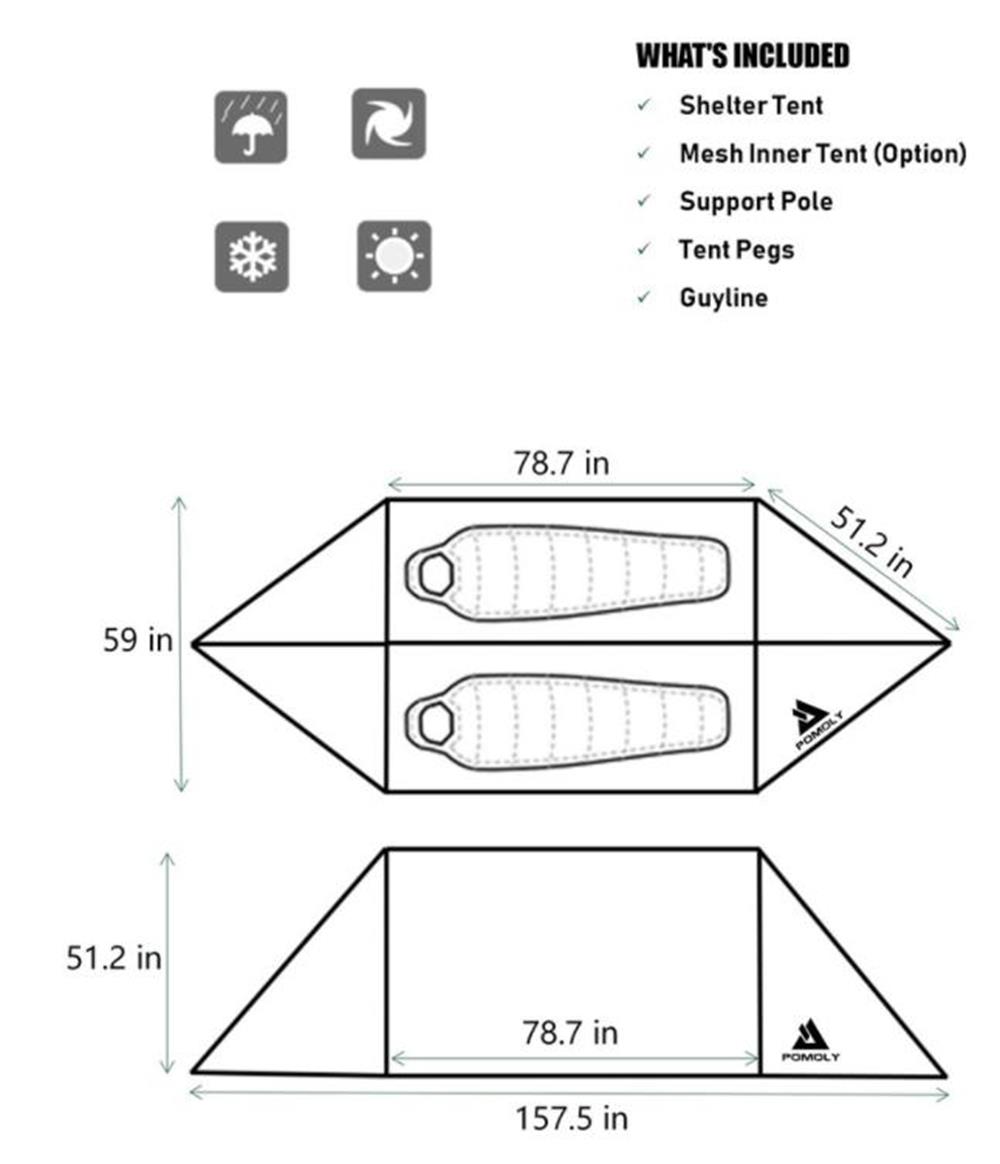 Pomoly FORT Hot Shelter is made of 300D Oxford with silver coating. With 3500mm waterproof function.Weight without bug net 12.4 lb / 5.6 kg, Weight with bug net 13.9 lb / 6.3 kg. The shelter has more than ten kinds of methods that can be set up, can adapt to most different weather conditions, and can meet the requirements of camping throughout the year. The best capacity is 1-2 people, and other camping equipment can be placed in the space at the end of the tent.
Specification:
Capacity 2 persons
Stove Jack Stove Jack: With heat resisting stove jack (Flame-Resistant Material)
Snow Skirt 6 sides snow skirts
Doors Two side doors and front door
Tent Fabric 300D Oxford with silver coating layer
Waterproof 3500MM+ Waterproof Seam
Floor Shape Hexagon
Peak Height 51.2 inch / 4.27 feet / 130 cm
Weight without bug net 12.4 lb / 5.6 kg
Weight with bug net 13.9 lb / 6.3 kg
Joint Treatment Seamed with Glue
Packed Size 24.8 x 24.8 x 5.9 in
Color Green, Coffee, White, Khaki (Customized)
Season 4 Season
Pros:
1、【300D Oxford with silver coating】Military grade fabric with 3500mm waterproof performance, very durable and tear resistance.
2、【Detachable Inner Bug Net】Opposite entrances with a no-see-um bug net, two flapped zipper entrances and lower windows to keep water out. Reinforce sewn ground nailing point.
3、【Various building methods】A variety of building shapes are suitable for various camping environments.
4、【Bushcraft Shelter】Camping lantern attachment point, reinforced sewing, Lateral triangle for better stability.
5、【Perfect Hot Tent】Fireproof stove jack, compatible with wood stove for a wilderness heat source in winter or snow. Lateral triangle area for stove and firewood.
6、【Open Design】Good ventilation, the open design increases the space in the tent, makes it more comfortable, increases the sunshade area.
7、There are 4 colors available, green, white, brown, khaki
Cons:
1、Attention: The inner bug net cannot be used together with a wood stove.
2、This tent can only accommodate a small number of people. If the wood stove is used in the tent, it can only accommodate 1 person, but it can accommodate 2 people without using the wood stove.
YouTube video
comments:
1、This was the review I've been waiting for.  My only concern would be that it might get too hot with the stove.  Another great video.  You could sell ice cubes to me on the North Pole.  I got to get one.  Now you know why I stay so poor.( –Billy Harper from Youtube )
2、Love it.. wish they did a "mini" one so it's smaller to heat… or a bigger one that you can sit in a chair in… this seem to be just in the middle… lol( –rix077 from Youtube )
3、I really like that one !!  That is probably my favorite setup.( –Skills2Survive from Youtube )
4、Gotta buy this tent. It's versatile in so many ways. Plus you get that outdoor american frontier 1800s vibe.( –Exow from Youtube )
To sum up:
The material of the Backwoods bungalow Shelter is 75D Nylon fabric, and the waterproof coefficient is 1500mm.
The material of Pomoly fort hot shelter is 300D Oxford with silver coating, and the waterproof coefficient is 3500mm.
It can be seen from the material that Pomoly fort hot shelter has better waterproof performance, and a silver-plated layer is added inside, which provides better warmth retention. Therefore, Pomoly FORT Hot Shelter is more durable and tear-resistant. So Pomoly fort hot shelter is more expensive than Backwoods bungalow Shelter. From the design point of view, Pomoly fort hot shelter has more optional colors. There are 4 colors to choose from, namely green, white, brown, and khaki. Backwoods bungalow Shelter has 2 optional colors, namely green and brown. Camping enthusiasts can order according to their favorite colors. Pomoly fort hot shelter is suitable for camping enthusiasts who demand a higher quality shelter and have more budgets. Pomoly fort hot shelter is more suitable for car camping, Backwoods bungalow Shelter is more suitable for backpacking or cycling camping.