Why Choose Pomoly LEO 2 Hot Tent for Hot Tent Camping?
Posted On 2023-02-03
As a person who loves camping, I dare not say that I am a good camper. However, I often go camping, sometimes day and night. There are three days and three nights for a long time. Therefore, for two-person camping, we want to find a camping tent. Then I recommend you choose Pomoly LEO 2 Hot Tent.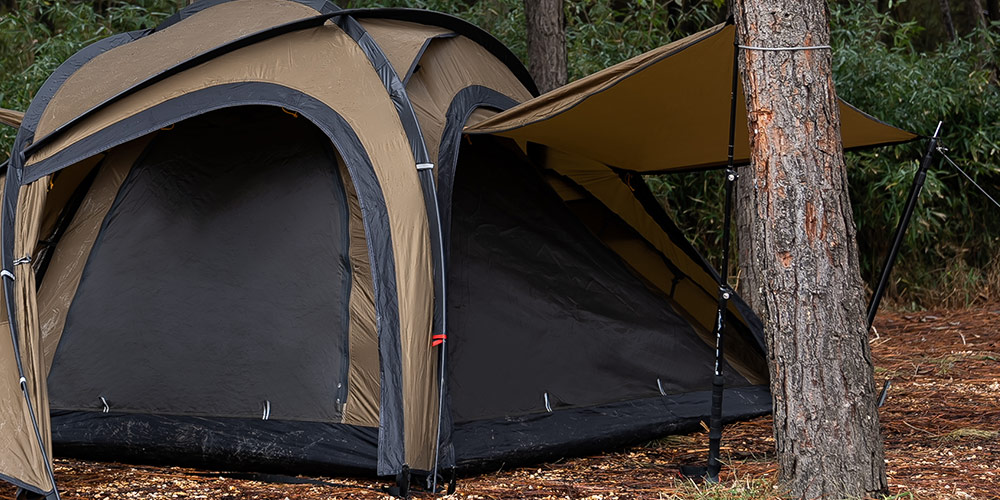 The main points for choosing tents are as follows
1. Type of hot tent
'Hot Tents' are shelters designed to accommodate a wood-burning stove. Master living in one of these and the results can be transformative. With the addition of a fire-resistant 'stove jack' sewn into a tent wall, it is possible to put a stove inside and run a chimney or stovepipe through the stove jack. The design of the Pomoly LEO 2 Hot Tent comes from the famous brand Pomoly. You can use it in combination with Pomoly's internal account.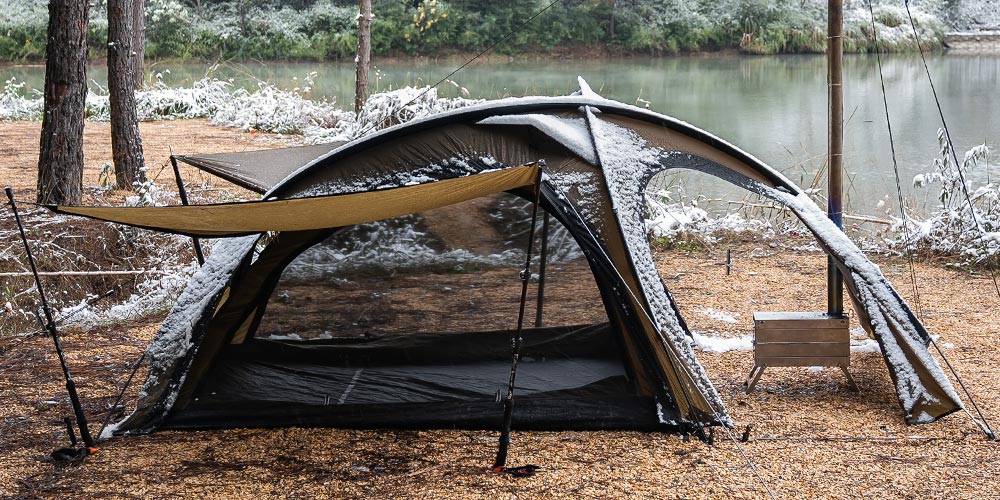 2. Hot Tent Fabric
Travelers can't live without tourist tents. To buy durable products with basic functions, you need to know the type of fabric used. The tent fabrics on the market mainly include nylon tents, Oxford tents, and cotton tents. What is the difference between them?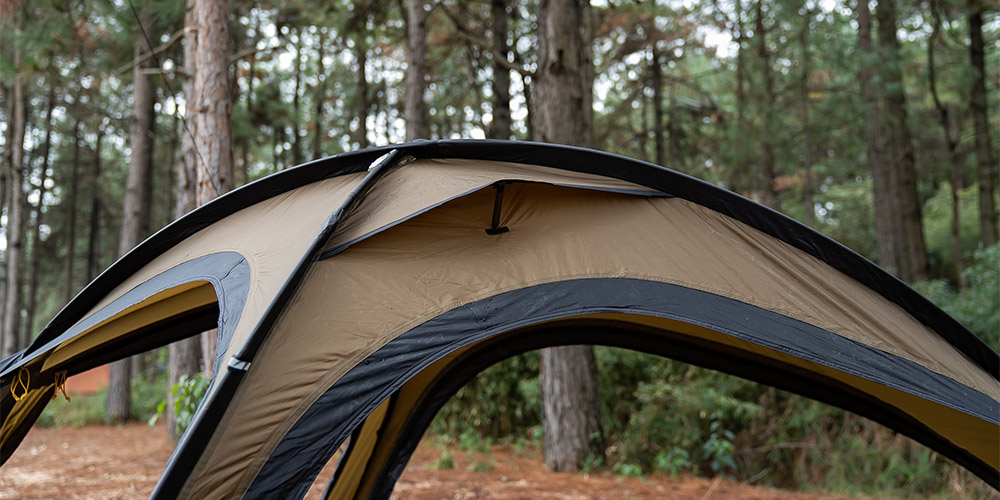 Oxford Tent: Hex hot tent series, Manta hot tent series, Fort series.
Cotton Tent: Yarn hot tent series, Peak tent series, Fort TC series.
Nylon Tent: Hussar tent series, Stovehut hot tent series, Chalet series.
Next, we know more about how to choose these hot tent fabrics from several aspects. The fabric of the Pomoly LEO 2 Hot Tent is Mesh and 40D Ripstop Silnylon PU 3000mm. Pomoly LEO 2 Hot Tent is very durable.
3. Hot Tent Price
The price of the tent determines the quality of the tent. The price of Pomoly LEO 2 Hot Tent is between 200 and 300 dollars. This is the price of a normal tent. But Pomoly LEO 2 Hot Tent has many advantages. Let's see what advantages it has!
Why choose Pomoly LEO 2 Hot Tent
1. Large-Size Stove Jack
A larger stove jack can match more kinds of stoves, and the stove jack of LEO 2 can accommodate chimneys with a diameter of up to 4in (10cm). The integrated stove jack makes the surface of the tent flatter, the triangular cloth (rain cover) can completely cover the stove jack, and the small plackets on both sides can prevent rainwater from touching the zipper.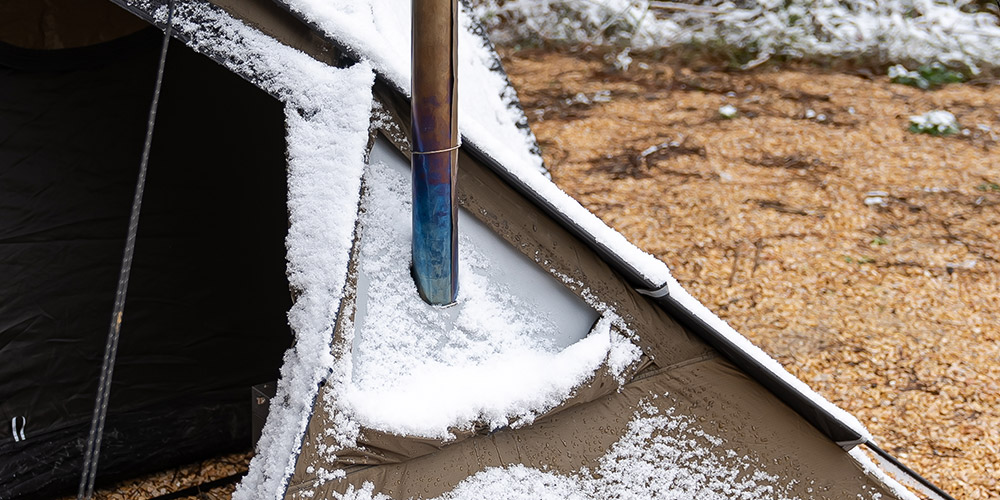 2. Outer Tent – Four Doors for Entry and Exit
The outer tent of LEO 2 has four doors, and each entry of the sleeping area is equipped with two pairs of YKK zippers, so they have three opening methods:
From bottom to top: Use trekking poles or sticks; the side door can be used as a small canopy.
From top to bottom: Opening a small part can be used as a vent to reduce condensation on the tent.
Front to back: Store the entire door in the back pocket for maximum ventilation.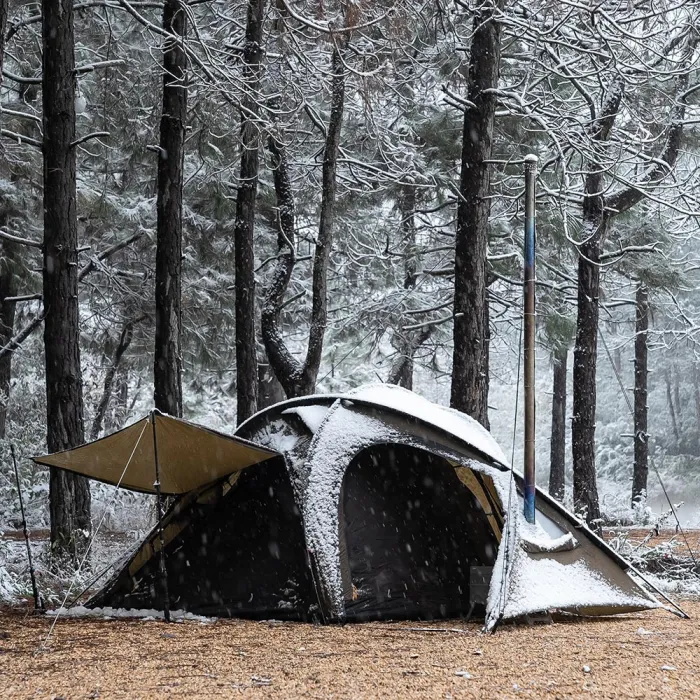 3. Removable Inner Tent
The inner tent of LEO 2 has a front door and two side doors, and each entry has two layers of materials: a cloth door and a mesh door. When we open the cloth door of the inner tent and the cloth door of the outer tent simultaneously, it becomes a mesh tent with a 300-degree surround. Ventilation is one of its advantages, so LEO 2 is also very suitable for summer.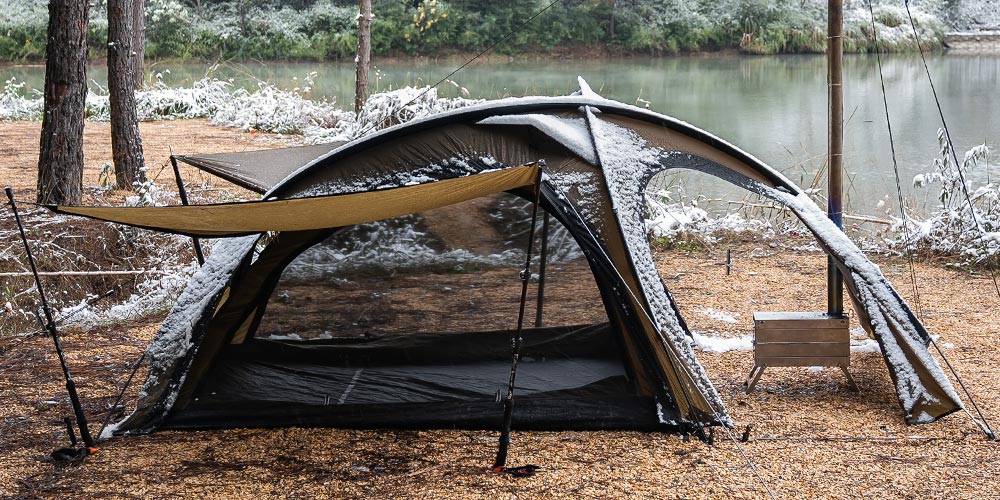 4. Outer Tent – Top Vent
Pomoly LEO 2 Hot Tent has three doors, so you don't have to worry about whether the tent is ventilated. Even if you close all the doors of the tent, there are also air vents on the top of the tent, so you can rest assured in the tent.
5. Top Triangle Pocket / Lantern Hanging Hook
Pomoly LEO 2 Hot Tent has many small designs, such as the triangular mesh bag and barb on your top. You can put the small night light on the bar, and you can also put some valuable small items, such as mobile phones, watches, etc. in the triangle bag. Otherwise, we will easily lose these valuable things.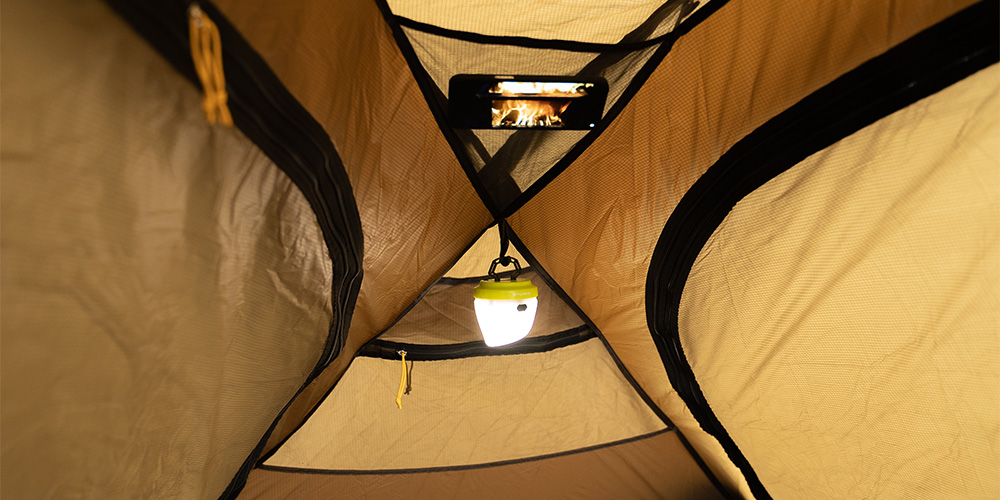 6. Grommeted Reinforced Stitching Pull Points
Pomoly LEO 2 Hot Tent has tent poles. This has saved you a lot of trouble. Most tents require you to purchase additional tent poles. You don't need to spend an extra expense. This is why Pomoly LEO 2 Hot Tent is so popular.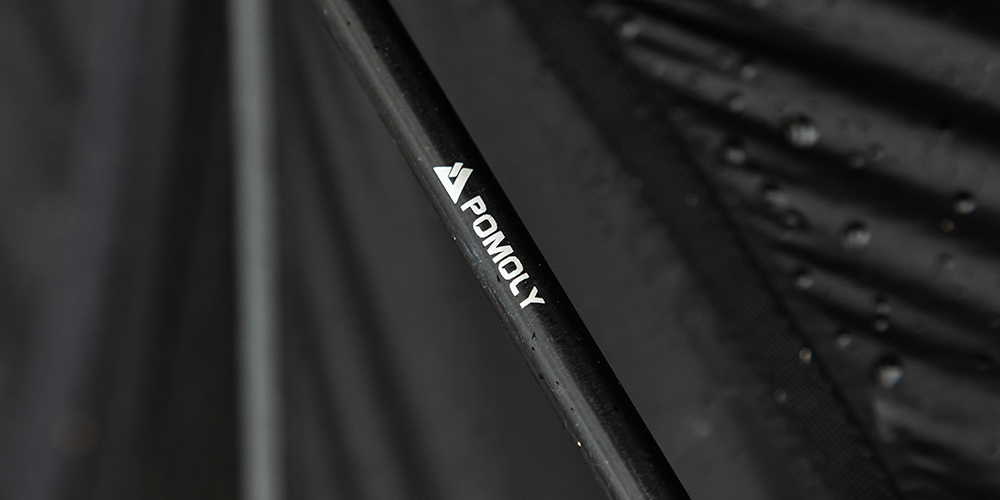 Conclusion:
Pomoly LEO 2 Hot Tent has many reasons worth buying. For example, The jack stove can be easily used for the most portable wood stove, and the outside is equipped with a placket to enhance the waterproof performance. The side door of the outer tent can be supported by trekking poles as a canopy.
The three doors of the inner tent are double-layer design, and No-see-um bug meshes on all doors and vents. All seams are treated with waterproof taping to ensure no leaks in rain or snow.