Is Scaena Packing Tent Worth Buying?
Posted On 2022-03-15
Recently, Onetigris launched a new tent named Scaena Packing Tent. It belongs to the backpack series. This is a three-season tent, so there is no Inner tent. In my opinion, its greatest advantage is lightness. Two people can sleep in the tent. In this article, we mainly discuss the design of the Scaena Packing Tent.
Design of The Scaena Packing Tent
this everyday camping dome tent is designed with the most straightforward setup method via flexible poles that cross at the top of the dome and are securely anchored to the floor on all 4 corners. The difference is that the SCAENA's tent poles are angled at 120º to offer campers bigger, wider space after setup, and its semi-outer tent offers unobstructed views of the outdoors from the large mesh windows of the inner tent. The outer tent can be used separately as an easy-setup tarp for some rest and a quick meal, with 3000mm waterproof rating to shield you from the elements, and the package comes with a leather tent mat to perfect your outdoor setup.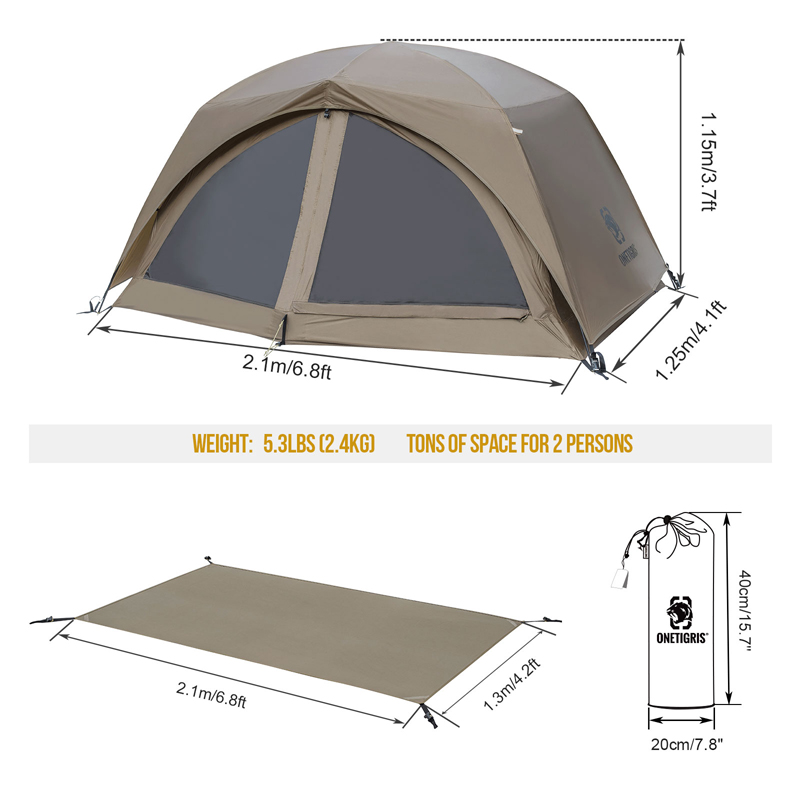 Advantages of Scaena Packing Tent
1. Scaena Packing Tent waterproof coating with 1500mm waterproof grade and tear-resistance
2. It is equipped with a nylon mesh inner tent, which can prevent the breeze from entering and insects from entering
3. Air vents with good air permeability can be seen everywhere.
Disadvantages of Scaena Packing Tent
1. Many tent poles are required for tent setting. It takes up too much space for hiking camping.
2. The tent is a three-season tent. If the weather in your camp is very cold. This tent is not suitable for carrying out. More suitable for going out and enjoying the sun. It's safer on the beach or in the park.
3. Scaena Packing Tent has the risk of water leakage. His top is online design. To better watch the night scene. They added an extra layer of top cloth. So there are many leaking cracks in the tent. There is a great risk of water leakage in this tent.
Conclusion:
I will choose a more practical tent. At the same price, I prefer Pomoly Chalet Tent. It is not only cheaper than Scaena Packing Tent but also better in quality. If you want to know more about Pomoly Chalet Tent, please click the link below
Read more…
Compare Oxford tent and Cotton tent,Fabric difference
How about Pomoly's Altay Stove? Is it worth buying?
Analysis Scaena Packing Tent's Pros and Cons